Revealed: The Reason WHY Kanye Chose San Fransisco's AT&T Park For Kim K. Proposal -- Plus 6 Other Developments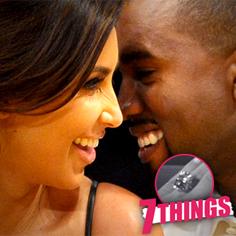 Kim Kardashian and Kanye West's surprise engagement has taken the world by storm -- and RadarOnline.com is right on top of EVERY new development. Here's seven new developments in what should be the most ballyhooed celebrity wedding in years.
7. Momager Approval
Prior to proposing to Kim, Kanye asked Kim's mom Kris Jenner for approval, which she gave, later calling the tandem "a match made in heaven!" It's no secret Kris and Kanye have grown very close in the past year, as Kanye -- still reeling from the death of his mother Donda, during a 2007 plastic surgery procedure -- begged Kris last year to cut back on the nips and tucks. A source told the ENQUIRER, "She's become like a second mom to him, and he couldn't bear losing another person in his life to plastic surgery."
Article continues below advertisement
4. Deja Vu
Apparently, the sting of Kris Humphries discount-turned-profit didn't completely put off jeweler Lorraine Schwartz to dealing with Kim's suitors, as she was the creative force behind Kim's extravagant new piece from Kanye. (Don't feel too bad for the ring-maker, the publicity alone is likely worth any of the bumps in the road along the way.)
3. #WEWANTPRENUP
Apparently, Kanye's lyrics from his 2005 smash "Gold Digger" have come back to haunt him, as one amplified line from the song -- "We Want Prenup" -- has became a trending Twitter topic early Tuesday following the announcement. Among the snark from Twitter nation: @DannyCrawford30: Kanye is a psychic because everything in "Gold Digger" has come true. #WeWantPrenup; @IHateMattDrufke Kanye & Kim are engaged! I'm expecting a big wedding. The kind where neither would notice if the other one wasn't there. #WeWantPreNup; @amalie1212 I dare kanye to play gold-digger at his own wedding #wewantprenup.
2. No Cameras?
Believe it or not, but the excalibur moment will not be televised -- the Kardashians' home network of E! said no cameras were on hand to document the proposal, a shocker for the first family of reality TV, who usually spare no personal details in what they share with the public.
1. Why AT&T Park?
So why would Kanye choose to pop the question at a baseball park of all places? We think we've cracked the code. Before Monday, most would say AT&T Park's previous claim to fame was the host site where (now-retired) baseball Barry Bonds launched home run number 756, surpassing Hank Aaron's career mark. Kanye has made no secret of his fondness for the slugger, releasing a song named after him in 2007, shortly after he launched the historic shot. Elementary my dear Watson!