Kim Kardashian Grosses Out Her Family With A Prank 'Placenta' Meal On KUWTK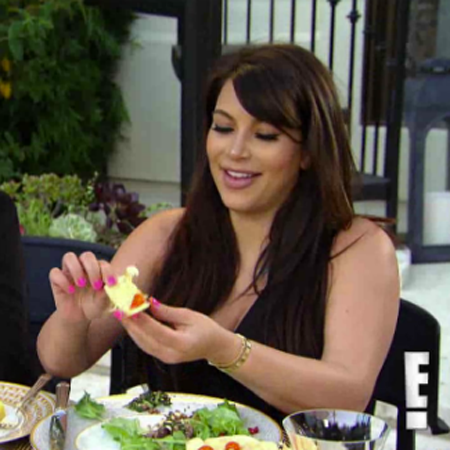 Kim Kardashian has taken her pregnancy pranks to the extreme and she grossed out her entire family with a major gag, tricking them into eating a placenta by sneaking it into the family meal on Keeping Up with the Kardashians.
On Sunday's episode, North West's mom, supposedly offended that her family didn't like her idea of eating her own placenta after giving birth, hatched a plan to serve the family a cooked placenta she bought online!
Article continues below advertisement
"I would love to get back at them," Kim, pregnant with Kanye West's baby, said.
The clan scarfed down the meal cooked by a chef and planned by Kim and her accomplice, sister Kourtney.
Mom Kris exclaimed, "What is this? It smells kind of crazy. It's a little tough."
The whole family was later disgusted to find out the mystery meat was placenta.
"It's so satisfying to play this placenta joke," Kim grinned.
"You guys are just sick," stepdad Bruce Jenner fumed. "It's like cannibalism."
Fans at home thought it was real, too--until the end of the episode, when we learned the meat was actually a piece of brisket.
But Kim and Kourtney never revealed to their family it wasn't an actual placenta.
And Kourtney, the mother of two kids with Scott Disick, declared, "I want to have a third child just to eat the placenta."
Article continues below advertisement
Also on Sunday night's episode, Bruce decided to make an appearance on Jimmy Fallon's show--even though the late night host had made fun of the plastic surgery the former Olympian had had on his face.
When Bruce told Kim about how distressed he was about the Fallon jokes, she pointed out to her stepfather, "Fallon wasn't the first to make fun of you and he won't be the last."
Kim encouraged Bruce to do the show and deal with the ribbing just like SHE has: "Everyone's like, 'She has butt implants!' I had a butt x-ray. You have to have a good sense of humor," laughed Kim, who, as RadarOnline.com readers know, has had her famous butt scrutinized yet again recently.
Later, after Bruce decided to do the Fallon show, Kris voiced her objections.
"I can take this guy on, don't worry," Bruce said.
"I just worry you could be a loose cannon," Kris said.
Later, control freak Kris advised her husband via phone not to get into it with Jimmy Fallon, to "not create any craziness and have fun."
But Bruce enlisted the help of his friend, comedian Jeff Dunham, to come up with some material for his New York Fallon appearance, which Kris, Khloe, and Kourtney watched on TV.
Article continues below advertisement
Bruce told Jimmy, "The old face jokes, two can play that game" and then showed the talk show host some startled face pictures of himself--which made it look like Fallon had had a facelift.
Jimmy and Bruce laughed and hugged at the end.
While Khloe and Kourtney thought the segment was hilarious, Kris did not.
"Bruce is slowly growing back his testicles," Khloe said.
Although Kris thought her husband had embarrassed himself, she then admitted, "Maybe I'm wrong."
Sunday's third major storyline on KUWTK involved brother Rob Kardashian driving his sisters crazy after he learned how to carve wood sculptures with a chain saw--and insisted on doing the noisy artwork at their homes.
While Khloe and husband Lamar Odom have been having marital problems in the wake of the basketball star's alleged cheating, as RadarOnline.com has reported, in Sunday's episode, the couple were depicted as being very much together.
Article continues below advertisement
"Rob has woken Lamar up a few time from the chain saw," Khloe revealed of her little brother, who was living with the pair.
Kourtney wanted to be supportive of her brother being artistic, so Khloe suggested Rob do his chain saw carving at her and Scott's home.
However, in a typically wacky KUWTK twist, Scott hated the wood sculpture of a bear that Rob created and threw it in the trash.
While Rob wasn't terribly upset about the incident, however, the Kardashian brother's habit of binge eating continued to concern his sisters after Kim found thirty empty bags of candy in his trash.
"He's out of control," Kim said about Rob, who has gained 50 pounds recently.
"It worries me," Khloe agreed.
Later, in a heart-to-heart with Rob, Khloe asked what was going on with him.
"You seem a little down," she said.
"I'm not down at all," he said.
When asked how he was spending his time, Rob told Khloe, "Running around in my room. I don't like to leave that room."
Rob got upset when Khloe asked if that was healthy.
Article continues below advertisement
When he told her to "get out," Khloe stormed away from their lunch table.
Later, via cell phone, Rob chewed out Khloe: "You don't need to say what's wrong with me. Nothing was wrong with me. I wasn't sad. I felt great. I had a great whole day until you--you always say something. You're the one that always does something about how like, I'm a loser, about how I rely on everybody."
Khloe objected, "I never called you a loser one time!"
Rob insisted, "You're the one who does it. Accept it, okay?'
Khloe sighed in a confessional segment, "I have no idea how me asking how he was feelings are turned into the anger and aggression in his voice. Enough is enough."
After Khloe confronted Rob about his eating, he said he needed to move out.
"I feel like I'm constantly walking on eggshells around him," Khloe revealed to viewers.