Exclusive
Eyewitness: Scott Disick Goes On Profanity-Filled Rant At Women In Hotel -- Right In Front Of Kids!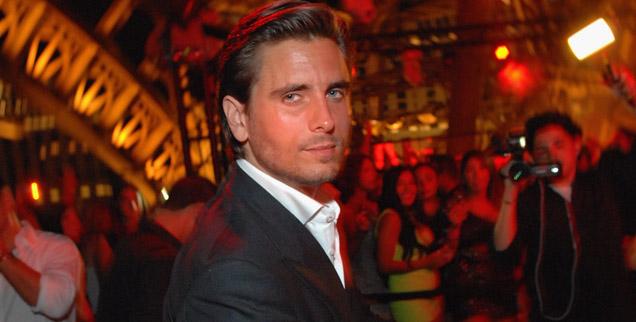 Scott Disick went on a bizarre, profanity-filled rant at several professional women in a hotel lobby, right in front of young children, an eyewitness tells RadarOnline exclusively.
During a day out with approximately 10 of his male friends in Miami on Saturday, Scott flew into a rage, and launched into an 'appalling' tirade calling women "b*****s" and "c***s" while holding court at the W Hotel lobby bar.
Article continues below advertisement
Kourtney Kardashian no doubt would have been mortified -- except she was thousands of miles away in Los Angeles.
"I was appalled, both personally and professionally, by his behavior," eyewitness Emily Roberts, a licensed therapist and empowerment expert, and writer for theguidancegirl.com tells RadarOnline.com.
Emily and her group of friends, "all professional women," were enjoying drinks in the Living Room lobby bar around 5 pm on Saturday when they saw Scott and a "huge entourage of like 10 men" walk in, Emily says.
"One of my friends told him she was a fan and asked very nicely for a picture," Emily explains. "I had seen positive stories about him lately, so I had no idea he would be rude."
But he was. Emily says, "Scott was like, 'No you girls are crazy! Get away from me! Why'd you come up to me' and continued to swear."
In addition to liberal use of the 'f' bomb, Scott "used several derogatory words for females," Emily says, including "definitely the 'b' word and the 'c' word."
Article continues below advertisement
"He was yelling at my friend in the middle of a hotel, and there were kids right there in the lobby," Emily reveals. "He was being very dismissive and inappropriate. Very unkind. Very vulgar. I was appalled."
"I never did see him drinking, so I don't know if that was the cause," Emily says.
But one of his bros offered up another possible explanation.
"Even his friends were like, 'Dude, chill out!'" Emily says. "So I was speaking to one of them, being like, 'Why is he being so rude?' and his friend said, 'He's just really sensitive right now.'"
Especially because Kourtney was nowhere to be seen, Emily says, "I thought that was an interesting choice of words. But I said, 'Just because he's sensitive, doesn't mean he has to be rude! This is pretty disappointing.'
"His friend kind of just shrugged his shoulders like, 'Well yeah.'"
Scott's monologue only got more disgusting from there, Emily says. "Later on, a few girls from our party saw him being very verbally derogatory about women, about people in general, swearing and partying," she says. "People were on a date and he was still being very vulgar."
Article continues below advertisement
In all, Emily says, "I was shocked because he has a daughter, Penelope, and he wouldn't want someone to treat his daughter that way."
She continues, "He was tainting Kourtney's image! I think Kourtney's darling, and the bottom line is, even if you don't want to be famous, you're famous. It doesn't have to be genuine but you do have fans so do you want to be presenting yourself as this narcissistic, egotistical jerk, or a guy who is actually kind to your fans and followers?"
The next night, Scott partied at LIV nightclub in the Fontainebleau Hotel, where he was spotted hanging out with women in his VIP section, still sans Kourtney.