Exclusive
Kim Kardashian Is Filming 'Keeping Up With The Kardashians' While Hiding Out With Baby North West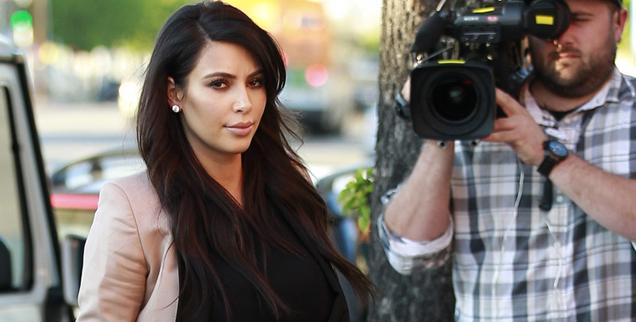 Despite laying low since the birth of her daughter North West, Kim Kardashian HAS been filming Keeping Up With The Kardashians while living with momager Kris Jenner, RadarOnline.com is exclusively reporting.
Cameras have been "a constant presence in Kris' house since Kim and Kanye brought North home from the hospital. Kanye has been angry about the intrusion, but Kim is contractually obligated to film," a family insider told Radar.
Article continues below advertisement
"The baby hasn't been filmed close up, but has been captured at a distance while Kim has been holding her. North's temporary nursery has also been filmed, when Kanye wasn't around. There is no doubt that Kim would want to have North appear on the show, if Kanye wasn't so opposed to it. She is a great mom, and totally devoted to her baby."
Meanwhile, the 32-year-old new mom has been getting concerned that she's not as popular as she once was.
The reality show princess gave birth to North on June 15 and has been staying behind closed doors at her mother's mansion, bonding with the baby and hanging with Kanye because her plan was to debut a killer in-shape body to huge fanfare.
"After all the excitement the whole world had for Kate Middleton's royal baby Kim had hoped that people would care about her that much, but now she's freaking out that they're not."
Her mom has been using Kim as a stunt on her new talk show, pretending to carry out baby North on the first day and then airing a video message from Kim, but the source said she doesn't think the buzz is there anymore.
The over-exposed sex tape star, "has resented being filmed in the days after North's birth. Kim is looking forward to the day when the show is over, and she can live her own life," the source said.