Exclusive
Pay Attention To Me! Kim Kardashian Is Afraid Plan To Prolong Baby Body Debut Is Backfiring!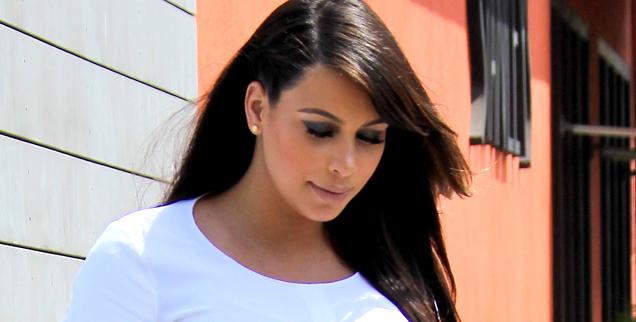 Kim Kardashian has been hiding from the world since giving birth to her daughter in June, trying to build anticipation for her post-baby body and baby debut, but her plan to wait as long as possible might have backfired and RadarOnline.com has exclusively learned that she's afraid she's waited too long and her star power is slipping.
The reality show princess gave birth to North West on June 15 and has been staying behind closed doors at her mother Kris Jenner's mansion, bonding with the baby, hanging with Kanye West because her plan was to debut a killer in shape body to huge fanfare.
Article continues below advertisement
"Kim has had this plan to show off how great she looks after giving birth and selling the pictures or videos for a lot of money, but she's getting worried that it's been too long and people aren't as excited about seeing her anymore," a source close to Kim told RadarOnline.com.
The 32-year-old new mom has been getting concerned that she's not as popular as she once was.
"Kim is used to having millions of adoring fans begging to see her all the time, but there has been a shift in her fan base and she's getting nervous that people don't care as much about her," the source said.
"After all the excitement the whole world had for Kate Middleton's royal baby Kim had hoped that people would care about her that much, but now she's freaking out that they're not."
Her mom has been using Kim as a stunt on her new talk show, pretending to carry baby North on the first day and then airing a video from Kim, but the source said she doesn't think the buzz is there anymore.
"Kim's scared that she is going to be forgotten and that she won't be the most famous mom anymore."