Kris Jenner's Bribe Attempt To Critic Backfires: See The Proof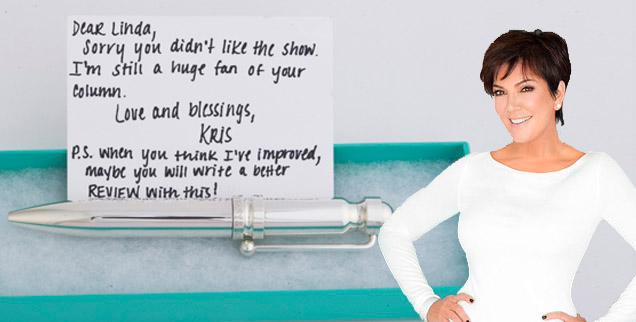 Kris Jenner 's attempt to bribe the New York Post columnist who panned her new talk show backfired and now RadarOnline.com has the photo proof of the gifts she sent trying to change her mind.
Linda Stasi slammed Kris' self-titled talk show, saying that she should just "shut up" and even slammed her daughter Khloe Kardashian, saying "She has as much right having a talk show as her dopey daughter with no talent had being a host of the X Factor."
Article continues below advertisement
Trying to butter her up, Kris sent Linda a dozen Magnolia cupcakes and a $325 sterling silver Tiffany pen and RadarOnline.com has a photo of the with a handwritten note that accompanied the gift.
"Dear Linda,
"Sorry you didn't like the show. I'm still a huge fan of your column.
"Love and blessings, Kris
"P.S. When you think I've improved, maybe you will write a better REVIEW with this!"
Sorry Kris, because the gifts didn't work!
"I cannot be bought – for a pen. A pen and pencil set, maybe – but just a pen?" Lindsay wrote about the Tiffany & Co. trinket.
"To improve your rating, Mrs. Kardashian-Jenner, either you somehow become interesting, which given the data seems as likely as the pope turning Jewish, or you do better with the bribes."