Kris Jenner Tried to 'Bribe' Me, Says Columnist Who Slammed Her New Talk Show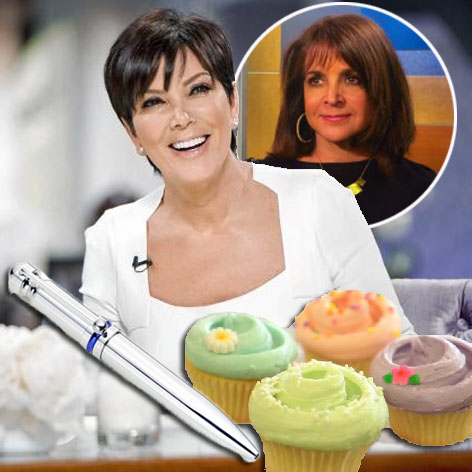 Kris Jenner is trying to "bribe" her way to a better review of her new show, Kris, says the newspaper columnist who received the loot from the Kardashian momager.
Linda Stasi, columnist for the New York Post, had slammed Kris, saying Jenner had as much right hosting a show as her "talentless daughter had for hosting a talent show" and that she came across as a "demented Norma Desmond."
Jenner apparently saw a way to convince Stassi otherwise.
Article continues below advertisement
On Thursday, the journalist received what she called her "first bribe," a dozen Magnolia cupcakes and a $325 sterling silver Tiffany pen!
In a note to Stassi, Jenner wrote that perhaps she could use the pen to write a "better review next time."
Stassi points out that she's not allowed to accept bribes and then had some fun at Jenner's expense, writing (on her computer, not with the pen):
"I cannot be bought - for a pen. A pen and pencil set, maybe - but just a pen? To improve your rating, Mrs. Kardashian-Jenner, either you somehow become interesting, which given the data seems as likely as the pope turning Jewish, or you do better with the bribes."
Stasi isn't the only TV critic to savage Jenner's talk show.
Reviews -- and ratings -- have been devastatingly bad.
"Horrible, boring, self-involved," wrote one. "Unwatchable," said another.
The show is on a six-week trial run.