TV's Drunkest Family? New Report Claims That Kris, Khloe, Rob And Scott All Need Rehab!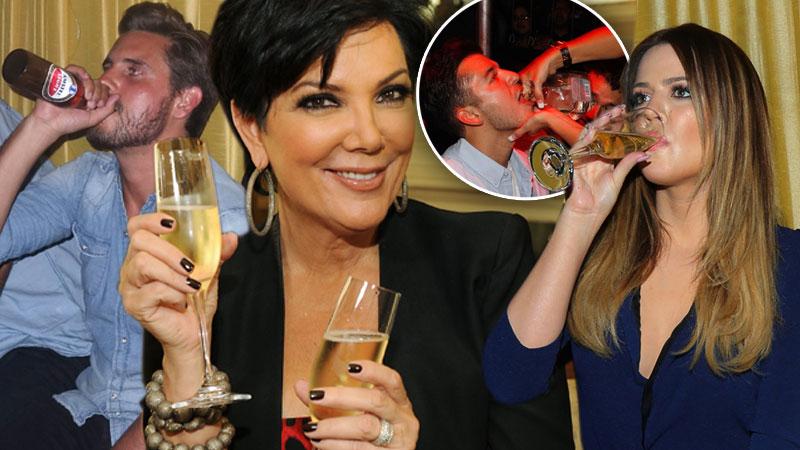 Are the Kardashians America's drunkest family? Kris Jenner, Khloé Kardashian, Rob Kardashian and Kourtney's baby daddy Scott Disick are all hitting the bottle hard and might need rehab, according to a new report.
In the latest issue of In Touch, sources say Kris is drinking to excess, and the kids aren't far behind.
"Kris is unraveling. She can't deal with everything that's happening in her life," a source tells the magazine.
Article continues below advertisement
The report notes that the famed momager, 58, has turned to drinking after a series of setbacks, including her estrangement from husband Bruce Jenner, her talk show flop and the children resisting her control.
But, in perhaps the worst blow for the attention-seeking reality TV mom, the ratings for Keeping Up with The Kardashians are in free fall, down a whopping 17 percent from last season.
In Touch claims that Kris recently switched from wine to vodka because it has fewer calories, but she over-imbibes.
"She starts drinking early in the day and is often out of it by sunset," a source told the magazine.
Indeed, Kris' sister Karen Houghton previously slammed the star's alleged vodka habit in an exclusive interview with RadarOnline.com.
Could her apparent problem be getting even worse? As RadarOnline.com recently reported, Kris was seen eating marijuana gummy bears with her mom M.J. Shannon, and getting her own medical pot recommendation on the last episode of KUWTK.
Article continues below advertisement
But she's not the only Kardashian who might require rehab, according to the new report. Kris' daughter Khloé, 30, got wasted before her sister's wedding to Kanye West and now allegedly is drinking champagne during the day and even more alcohol at night when she goes out with rapper boyfriend French Montana.
Kim, 33, who doesn't drink, is worried, the report claims. According to the magazine's source, she told a friend that Khloe in particular "needs to get help."
Meanwhile, brother Rob, 27, is allegedly drinking the codeine-packed concoction known as "Sizzurp", and has finally admitted he needs rehab for his depression and anxiety, In Touch claims.
And as RadarOnline.com previously reported, Kourtney, 35, has begged longtime partner Disick, 31, father to their two kids (and a third on the way), to go into a treatment facility.
So far, he hasn't. But during last week's KUWTK episode, viewers saw the "Lord" of partying getting sloppy drunk and making a fool of himself in front of a livid Kourtney in Miami.
A rep for the Kardashians did not immediately respond to RadarOnline.com's request for comment.