Exclusive
'Pray For Kris!' Jenner's Sister Says Momager Is 'Drinking,' 'Isolating From Family' As She Deals With Marriage Breakdown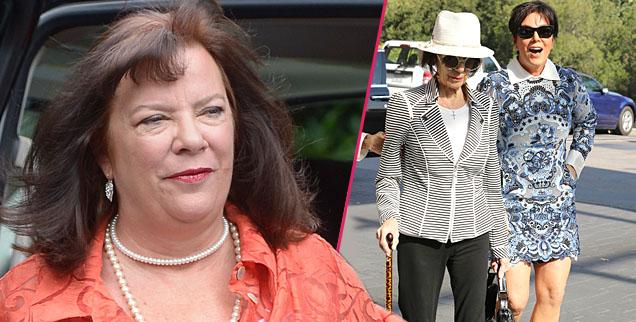 Kris Jenner plastered on a smile as she attended Easter Sunday services with her mother, Mary Jo Campbell, and estranged husband Bruce in L.A. on April 20. But now, her younger sister, Karen Houghton, tells RadarOnline.com exclusively that Kris is the one who needs prayers, since her 23-year marriage has crumbled and she turned to the bottle!
"Pray for Kris Jenner she needs it…crazy," Houghton ranted on her Facebook page on Monday. "Shes sic as sic nutcase.
Article continues below advertisement
"She doesn't need prayers she needs sky vodka hahaha hahaha hahaha," she continued, obviously mocking the reports that the matriarch is boozing way too much.
In a new interview with RadarOnline.com, Houghton explained why she is lashing out at her reality star sibling.
"I get pissed off at her because she doesn't respond to me," she told RadarOnline.com. "If you think your sister would call you back, she doesn't. And it hurts me. I don't care how much money you have or who you are, you're my sister. I'm not afraid of her."
It seems as Jenner has climbed her way up the celebrity food chain, she's distanced herself from her loved ones.
"I can't get to her anymore. But I guess it's the money," Houghton said.
"She's a huge celebrity and now she has changed. I'm not saying good or bad," she added. "But I've seen what it can do to Kris… ever since she moved to L.A."
And according to Houghton, one change has been Kris' new love for hitting the bottle, which was spotlighted even more than usual when 18-year-old daughter Kendall recently blasted her mom for drinking on Twitter: "What do you want me to do IM DRUNK!" – my mother," Kendall wrote to her fans."
Article continues below advertisement
Revealed: 35 Secrets The Kardashians Want Hidden
"I remember when we were young Kris would say 'oh, you drink too much.' I was 19 and partying," Houghton confessed. "And now look who's drinking what!"
Ironically, their father's own problems with alcohol contributed to his abusive behavior and untimely death while behind the wheel.
"I don't know if Kris is an alcoholic. If she's drinking, she's drinking," she said. "I don't care if she drinks too much. It's none of my business. Let Kris drink all the vodka she wants. Hopefully it's the good kind. I could care less. Does she care if I drink too much? I don't think so."
Houghton believes the only cure for what ails her famous sister won't be found at the plastic surgeon, but on the inside.
"I think my sister needs inner peace," Houghton said. "She's not warm and fuzzy. She works so hard and making money, but is it making her happy? I don't know."
"I think she needs to laugh more," Houghton continued. "She's very serious."
Even worse, "She's isolating herself from the family," Houghton said. "I tried to reach out to her, but she's very aloof."
Article continues below advertisement
The 58-year-old Keeping Up With The Kardashians star previously told RadarOnline.com her little sister has been "dealing with demons for years" and the two are estranged, which could explain the cold shoulder Houghton is feeling. But Houghton thinks the momager just can't handle the truth.
"I tell her like it is and she doesn't like it. If something makes me upset, I tell her," she insisted. "She doesn't like it because of who she is. I love her, but I tell her how I feel."
Houghton, who lives almost two hours outside Hollywood in San Marcos, Calif., says it's the A-list lifestyle that's taken its toll on Kris's life, her marriage to Bruce and their bond.
"We're close enough. But I think she's changed since I grew up with her," Houghton said. "The whole Bruce separation might be a gimmick. The divorce might be a gimmick. The whole drinking thing might be a gimmick. I don't know what to believe with them or not."