Kris Jenner's Face 'Looks Unnaturally Tight!' Top Plastic Surgeons Agree… The Kardashians Momager Has Had Fillers & Injections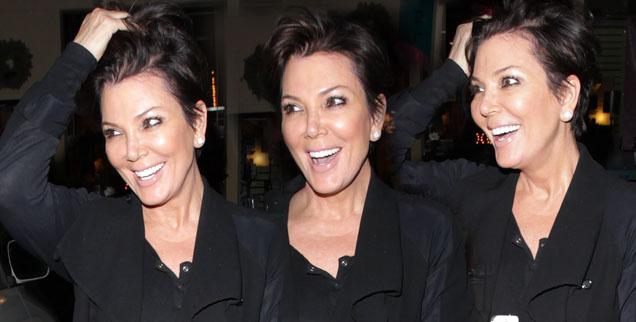 When Kris Jenner was photographed last week leaving a Calabasas, Calif. restaurant she was wide-eyed and fresh faced -- so much so that plastic surgery experts exclusively tell RadarOnline.com the Kardashian momager appears to have had some work done.
The 58-year-old reality TV star laughed as she walked to her car but it's the lack of movement on her face and the fact that she's nearly wrinkle-free that points to fillers and injections, the doctors say.
Article continues below advertisement
"Has Kris seen a plastic surgeon recently? I think so! Her face looks almost unnaturally tight, possibly due to a combination of chemical peels and laser treatments," Dr. Anthony Youn of Youn Plastic Surgery told Radar.
"Her forehead and upper face are remarkably wrinkle-free, I suspect as a result of quite a few Botox injections. Her cheeks are also plump, and could be due to injections of the new FDA-approved Voluma cheek filler."​​
Echoing Dr. Youn, Dr. Garo Kassabian of Lift MD Aesthetics​ in Beverly Hills also believes Jenner has had fillers -- although neither doctor has treated her.
"From the looks of it, it's my opinion that Kris probably received fillers like Voluma or Juvederm to her cheeks, temple and jawline. Also for the tightening of the skin, it's common to get Ultherapy, fractional laser or radio frequency," he told Radar.
Article continues below advertisement
"It's also apparent that she had a fat injection to the face making her face look a lot tighter and youthful adding volume. Also, she could have had a (redo nip/tuck) facelift and necklift with fat injection to the cheeks which give her the more youthful fuller look of the cheekbones."
Jenner isn't the only Keeping Up With The Kardashians star who appears to have had work done.
As Radar previously reported, fans have begged Kim Kardashian to stop having plastic surgery.
And it's no secret that her estranged hubby Bruce Jenner has had work done, most recently shaving his Adam's apple down.
Bruce's daughter Cassandra Marino recently commented on her father's changing look saying he's "always been a handsome guy, and he never needed to do anything. But you know, clearly he feels differently — and nobody knows how it is to be in his skin."