Exclusive
Bring Back The Old Kim! Fans Beg Kardashian To Stop Plastic Surgery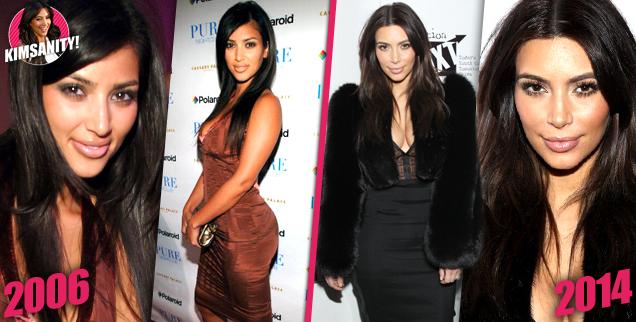 It may be hard to recall, but there was a time not too long ago when the Kardashians were among the most popular of Hollywood celebrities. But just a few years and countless scandals later, their popularity has plummeted to an all-time low. Now, fans have taken to social media to tell Kim Kardashian how she might be able to get back on top: Stop the plastic surgery!
Fans were moved to comment when Kim posted a #FBF, or Flashback Friday, post on Instagram on February 7 showing six of her appearances on Jay Leno through the ages. From her first days on then scene, through her marriage to Kris Humphries and up to her post-pregnancy body, fans got a shocking timeline of her transformation -- and they didn't like what they saw.
Article continues below advertisement
Check out some of the comments:
"shouldn't have gotten plastic surgery" - @lexsa23
"Your face has changed so much." - @sarapdiamond
"You were so pretty in the first 4! don't get plastic surgery. now your'e just not as pretty." - @jazlynxcook
"Wow look how much your face has changed." - @erika_medina11
"Lol bottom left looks like Botox overload. #sorry" - @katiaalvarez_
"Changed to worse. You were so pretty." - @abeeralmarkzouki
"So much better before" - @solovelysecret
"WTF is going on with her face! She was such a pretty girl." - @nyc_rose24
"Bring me back the old Kim!" - @babyels
"Please stop getting work done to your face. It's obvious and you absolutely don't need it." - @julianneware
Kardashian denies that she's had anything done besides Botox, but it seems clear her face has changed a lot over the years.