Introducing … Bruscilla?! New Photos Show Bruce Jenner After Adam's Apple Surgery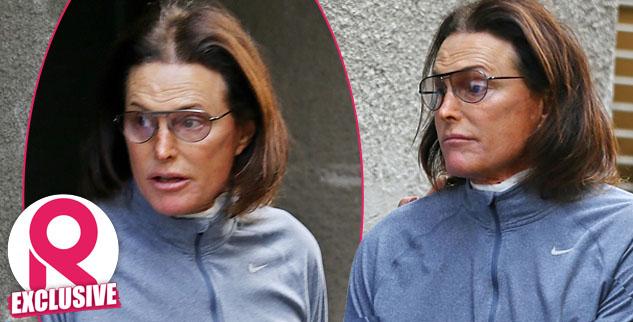 After stepping out with longer hair, longer nails, and feminized features, Bruce Jenner's transformation has continued with its most shocking step yet: The Olympian turned reality star underwent a "laryngeal shave" procedure earlier this month to soften the appearance of his Adam's apple, and RadarOnline.com has obtained tell-tale new photos of Jenner leaving a clinic in Beverly Hills with his throat bandaged.
Article continues below advertisement
The photographs show a weary Jenner with his long hair down, in a top zipped up over his neck, and bandages clearly poking out.
According to a report in the National ENQUIRER, "The car took him back to his Malibu home" after the procedure, "and he was told no talking for a few days."
"He was also told to stay off his feet for the rest of the day — to just take it easy and rest," the ENQUIRER claims.
What's more, the bombshell report alleges that Bruce – who married Kris Jenner in 1991 and has two daughters with her, Kylie and Kendall – could be looking for a new name to match his new look, with one source claiming he's leaning toward "Brigitte" after legendary screen siren Brigitte Bardot.
"At first Bruce was intrigued with Bruscilla, but after he thought about it some more, he decided it didn't work for him," the source explained. "He said, 'It doesn't roll off the tongue very well. Bruscilla sounds like some kind of disease."
"He loves 'Brigitte' not only because it's such a beautiful name, but it makes him think of Brigitte Bardot, who was a total bombshell," the insider added.
Jenner has denied that the laryngeal shave had anything to do with a sex change, insisting he simply did not like its appearance.