The Surgery & Secrets Behind Bruce Jenner's Shocking TRANSformation -- Is He Becoming A Woman?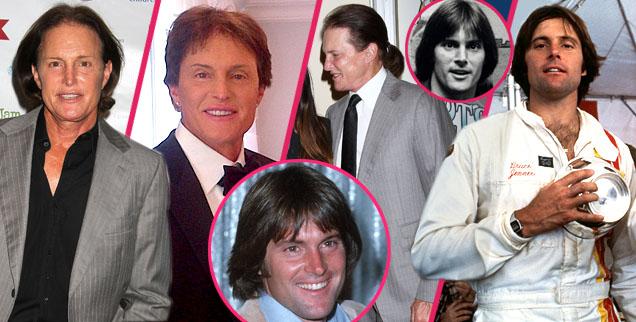 Days before Kris and Bruce Jenner announced their separation, he was already gushing to fans about his new life. "I'm finally free," he said at an event on October 18, "to do what I want and live life the way I want." And increasingly, it seems, that includes some striking physical changes.
After years of surgery feminizing his features, Bruce has grown his hair out into a long ponytail, tweezed his eyebrows, and started wearing earrings and lip gloss. Then, his recent announcement that he was getting his Adam's apple shaved down seemed to be a possible indication that he was starting down the road towards gender reassignment surgery. Bruce backtracked, insisting he wasn't transitioning to a woman, and simply didn't like his Adam's apple. But now, Hollywood transsexuals are speaking out about Bruce's recent changes, to offer advice and support for a man they say could help millions if he eventually decides to transform into a woman.
Article continues below advertisement
Dr. Marci Bowers, the first transsexual woman to perform sex change operations herself, tells RadarOnline.com exclusively, "The real hallmark of being male is the presence of an Adam's apple. Someone choosing to have that reduced is pretty much making a statement that when they're going to be dressed as a woman, they're hoping to pass as a female in public." (Ellen Kardashian has said that Bruce's ex, Chrystie Crownover, told her that the former Olympian likes to cross dress in high heels and lacy bras. Crownover later denied it.)
While no one knows if Bruce is actually transgender, Dr. Bowers says, "That could be the step that Bruce is making. It's complicated, but it would be very surprising if it was just a final step for doing something about a feature he didn't like, and not the beginning of a slippery slope to gender reassignment surgery."
Especially in the context of reports Bruce is having laser hair removal on his face, Bowers says, "That would suggest pretty strongly that it's more than just a passing stance, a passing phase. There's a lot of different ways that people can express the feeling of being transgender without going all the way and making irreversible steps like a tracheal shave. That crosses the line, and it does seem probable that he is beginning the transition to presenting as a female."
Article continues below advertisement
Transsexual America's Next Top Model contestant and fan favorite Isis King agrees that Bruce could be an impressive role model if he is indeed transgender.
"He's going to give Kris Jenner a run for her money!" King tells RadarOnline.com exclusively. "That's very brave, to come from that reality show and just do that. After everything he's accomplished before the Kardashians, that would be a very brave move. To show that no matter who you are, where you're come from, you can be an example of diversity. He's a person of Olympic experience, on a Wheaties box! It would be awesome."
MORE ON:
America's Next Top Model
Should Bruce ever decide to transition, the model, actress, and fashion designer says, he will have an even tougher time, however, than people transitioning outside of the spotlight. "There are so many pictures, and videos of him as who he is now," he says. "If he decides to become a woman, they will always be there for people to criticize or make fun of every little thing, when the reality is that it takes time to completely get where you want to be." King says that she has struggled watching video footage of herself early in her transition, which eventually included gender reassignment surgery, breast implants, and hormone therapy.
Article continues below advertisement
They Make How Much?! The 23 Highest-Paid Reality TV Stars
That said, her advice for a potentially transitioning Bruce would be, "It doesn't happen overnight. It's a really long process, seeing changes in your body, and mentally just being able to come to terms with it. For me, it was years. Just go with the flow and don't rush into anything. I've learned to say positive and keep an open mind and everything works out."
Dr. Bowers, who has helped countless patients throughout heir own transitions, adds, "It's a lot of pressure and the scrutiny is going to be enormous. People who transition publicly like that have pressure to be as comfortable in their own skin as possible, to be as presentable as they can. So things like a tracheal shave and hair removal make sense as potential first steps."
She also warns that Kris, Kim, Kourtney, Khloe, and the rest of the Kardashians could find a transition to be a more difficult process than Bruce himself, should it ever happen. "It's very cathartic and liberating to go through, but it's much more difficult for the people around you," Dr. Bowers says. "His family's going to feel all sorts of reactions: shame, betrayal. They're going to end up discussing it and he's going to need to be patient with that."
What could be the next step? "There is certainly no one recipe for transition, and no one way that I've seen anyone do anything," Dr. Bowers reveals.
But should Bruce decide to transition fully, Dr. Bowers says, "He would have a chance to educate people all over the world. I wouldn't rule out another reality show!"
"We're all following Bruce's story with interest," Dr. Bowers adds. "My heart goes out to him and his family. I hope everything will work out. It usually does!"