Kris And Bruce Jenner's Shock Separation: 16 New Developments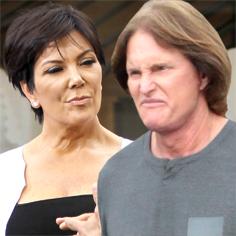 On Oct. 8, Kris and Bruce Jenner made the announcement that they were "living separately," confirming what RadarOnline.com has been reporting for months. As circumstances surrounding the split continue to develop, RadarOnline.com has compiled a list of 16 shocking new developments in the separation.
1. While Kris briefly stepped out of the public eye around the same time that she made the announcement, she has since been photographed attending a Hollywood Walk of Fame Star ceremony honoring Kenny 'Babyface' Edmonds on Oct. 10. Her daughter Khloe Kardashian, who is also facing her own marital problems with husband Lamar Odom, was by her mom's side.
Article continues below advertisement
2. As RadarOnline.com reported earlier, Kris is privately lobbying Bruce to serialize their marital problems for their reality show, Keeping Up With The Kardashians -- but Bruce has refused to stage a reunion.
3. In fact, a source tells RadarOnline.com that Bruce wants off of the E! reality show completely. "Bruce feels he's done with the Kardashian reality shows," the source told RadarOnline.com. "He has told Kris and producers of the show that he wants out, but he is under contract to film one more season."
4. RadarOnline.com also revealed on Oct. 9 that Kris is considering dropping Jenner from her name and going back to Kardashian.
5. Her last name isn't the only thing that Kris has dropped. Kris was pictured no longer wearing her wedding ring on Oct. 10.
6. An insider told RadarOnline.com that Kris is lying to the general public about remaining friends with Bruce. "Don't believe one word coming out of Kris Jenner's mouth," the insider said. "She has lied to America for the past year when she constantly denied her marriage to Bruce Jenner was in trouble, and that they had split up. They already had, but she continued the lies."
Article continues below advertisement
7. The truth about her split from Bruce is not the only secret that has been revealed this week. Kris' sister Karen Houghton told In Touch magazine that Kris has spent over $1 million on plastic surgery.
8. Karen's plastic surgery reveal isn't the only thing that she has had to say about her famous sister. Earlier this week, she called her sister a "workaholic" and a hustler. But then on Oct. 9, Karen oddly retracted her words by taking to Facebook. "My sister is not a monster mom," she posted.
9. RadarOnline.com learned that Bruce had been spending more and more time with his ex-wife Linda Thompson prior to his separation announcement — and Kris is not happy about it. "It's not sitting well with Kris that Bruce has been spending time with Linda," the source said. "There is nothing romantic going on between the two at this time. However, Bruce has always had a special place in his heart for Linda and admires what an amazing mother she is to their sons."
Article continues below advertisement
10. While they may not be living together, Bruce told RadarOnline.com that he has not yet sought out legal counsel for a divorce. "I didn't hire a lawyer," Bruce said.
11. And just because they are separated, doesn't mean that they haven't been seeing each other. Kris posted a photo on Instagram of herself hanging out with Bruce and his sons Brody and Brandon on October 10. The caption read, "Another amazing night @brodyjenner @sprandoni and Bruceeeeee!!! Too fun I love you guys!!! Best hearts#sorryTMZgotitwrongAGAINLOL"
12. Kris might be getting ready to go through a detox. She was pictured reading a diet book 21-Day Tummy, according to the UK's Daily Mail.
13. The split hasn't hurt Kris popularity. In fact, she is on the cover of New You magazine talking about her sexuality. Kris shared a preview of the magazine on Instagram on October 11.
14. Kris was romantically linked to former Bachelor star Ben Flajnik after she posted pictures of herself and Ben on Instagram, but Ben set the record straight. "I did Kris' talk show a few months back, brought my wines on the show. Of course I offered her a visit to the winery whenever she had a chance," Ben told Us Weekly. "That's how we met. Recently, she ended up contacting me about a month ago or so and asked me if they could film an episode of Keeping Up With The Kardashians at the winery. I of course obliged."
15. While Kris is thinking about changing her looks, Bruce revealed his own new look when was pictured sporting a ponytail while playing a round of golf this week.
16. As RadarOnline.com exclusively revealed<> earlier this week, Kylie<> and Kendall Jenner have picked sides in the split. Kylie is standing by her mother's side while the source said that Kendall wants to move in with Bruce.