Exclusive
A Family Torn Apart: Kendall Jenner Sides With Dad Bruce, Kylie With Mom Kris In Wake Of Separation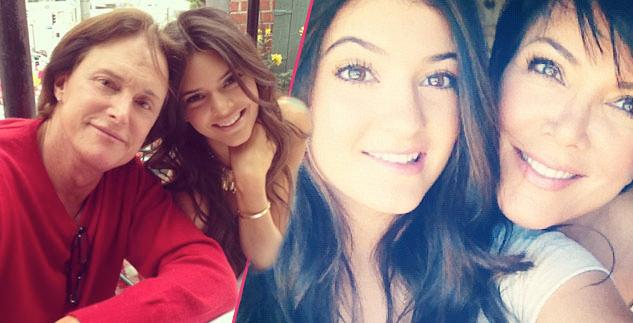 Alliances are being made and teenage daughter Kendall Jenner is siding with Olympic athlete dad Bruce while younger sister Kylie is living with momager, Kris Jenner at the family home in Hidden Hills, Calif. RadarOnline.com is exclusively reporting.
An aspiring model, "Kendall has always been much closer to dad, Bruce, than to momager, Kris. Kendall is much quieter and shy, just like Bruce....she doesn't seek out the spotlight like her younger sister Kylie," a family source told Radar.
Article continues below advertisement
"Kendall has been splitting her time between Malibu and the family mansion. Kendall would like to move into Bruce's house full-time but Kris always gives her a guilt trip about it."
But Kylie's allegiance lies with her mother because they have more in common, the source notes.
"Kylie is always going to side with Kris because they have always been so much alike. She is obsessed with having the latest designer handbag, flashiest car, and loves being the center of attention," the insider said.
"Kylie has her friends over and they party at the house all the time, and Kris could care less. She thinks it's better for Kylie to party at home, rather than at someone else's house. Bruce is much stricter than Kris, and the parents often bicker about how to discipline the girls."
In fact, a major source of strife between Kris and Bruce has been the decision of their daughters, Kendall, 17, and Kylie, 16, to drop out of traditional high school and be home schooled, a source revealed. And as for moving out, Bruce felt he had no choice.
Article continues below advertisement
"It was very hard for Bruce to watch his girls struggle in school because of their careers. He feels they are missing out on normal teenage experiences such asgoing to football games and going to Homecoming dances," the source previously told Radar.
In the end, Bruce "let Kris win this one, as he does with almost everything in their relationship," said the insider.
"There is only so much he can do. It's his hope that one day soon, the girls will consider going to college because he doesn't want them to rely on their looks andfame going forward in their lives."
During the time the girls were in school, and before they were driving, "it was always Bruce that took them and picked them up. Kris was never around, she was always off with Kim doing promotional appearances. Bruce really was Mr. Mom, and always has been," the insider added.
"Kris only took a more active role in the teenager's lives when she started brokering business deals on their behalf. Of course, Kris always gets her 10 percent cut of all deals she brokers that any of the kids get. Bruce doesn't view his children as a business, and Kris sadly does."
The source concluded, "Keep a very close eye on Kylie....she could start making headlines very soon for all the wrong reasons."