Exclusive
Kris Jenner 'Is Not A Monster!' -- Her Sister Karen Backtracks After Critical Comments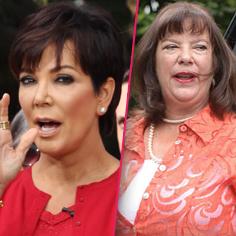 Article continues below advertisement
"My sister is not a monster mom," Houghton wrote on her Facebook page on Wednesday.
Referencing the cover of In Touch, she wrote, "Guess they have to sell lies to survive."
Houghton continued, insisting, "Kris happens to be a fabulous mother!"
She also had some kind words for Kris' estranged husband, Bruce, who she called "so smart and kind."
Jenner's sis had previously told In Touch, "You know what drives Kris? Power, power, power and money. It's called wanting power, Gucci purses, Bentleys, all the things I don't care about that she does."
She even went so far as to claim that the Kardashian momager was driven to succeed to compensate for underlying childhood issues linked to money, self-esteem and her father's tragic passing.
"If something is upsetting you, you are either going to hit the bottle, do drugs, go to the gym constantly, or you are going to work, "Houghton said. "It's an addiction and it's because you are unhappy. You do these things because there's a hole that's not filled."
Do you think Houghton told the truth the first time around? Or were her words twisted? Let us know in the comments!