Exclusive
Jenner Separation Turns Nasty: 'It's NOT Amicable… It's All Kris' PR Spin,' Bruce Confidante Reveals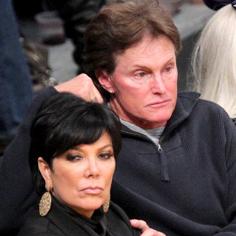 Despite publicly saying that Kris Jenner's split with Bruce Jenner is amicable, a source close to the Olympic athlete exclusively tells RadarOnline.com that it's turned nasty, and the momager is just misleading her Keeping Up With The Kardashians fans.
Since RadarOnline.com first revealed that Kris and Bruce had split up, the mother of six has told multiple media outlets that the couple of 22 years are still best friends, and talk on the telephone numerous times a day -- but not so, says our insider.
Article continues below advertisement
"Don't believe one word coming out of Kris Jenner's mouth. She has lied to America for the past year when she constantly denied her marriage to Bruce Jenner was in trouble, and that they had split up. They already had, but she continued the lies," a family insider told RadarOnline.com.
"Is anybody ever going to hold her accountable for her lies? The reason the family does the reality shows is to let the public get a glimpse of their lives, but it's all scripted and planned out in advance. When a few media outlets (including RadarOnline.com) reported earlier this year that Kris and Bruce were finished, the Kardashian PR spin machine went into overdrive to squash the truth."
The very well placed source pointed out that during an appearance on Access Hollywood Live last summer, while promoting her talk show, Kris said Bruce had moved out of their Calabasas mansion, but still came home every night to her.
"We got a place out at the beach for him to get away," Kris said in the interview.
She went on to say during the appearance that there were no problems in her marriage and claimed that she still sleeps with Bruce.
Article continues below advertisement
"It's been 23 years and it's amazing to have a little bit of space so it's kind of fun," she said.
She even told Billy that "it's a wonderful idea" and said "he sleeps at home, he is mostly sleeping at home."
Billy asked if absence makes the heart grow fonder and the matriarch of the family said, "It does."
However, Kris told Us Weekly the couple had separated a year ago!
"This separation isn't amicable....it's all PR spin that they aren't going to get divorced. Bruce only talks to Kris when he absolutely has too, and it's only about the girls," the source revealed.
"He can't stand her, and Kris thinks Bruce is boring. Someone needs to hold Kris responsible for the lies she tells the American public. She needs to take an on-camera lie detector test so the public can really see what she is really all about."
In closing our insider added, "America needs to stop drinking the Kardashian Kool-Aid!"