Exclusive
What's REALLY Going On Behind-The-Scenes: Kris Jenner 'Desperate' For Staged On-Screen Reunion With Bruce… But He Wants To Quit The Show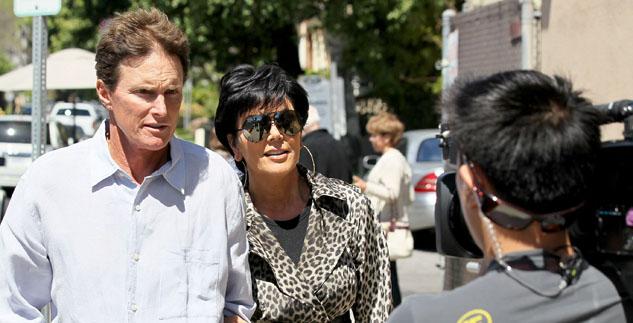 Never one to miss a chance to jumpstart television ratings, momager Kris Jenner is privately lobbying her estranged husband Bruce to serialize their marital woes on the family's E! reality show, RadarOnline.com has learned.
But the 63-year-old former Olympian -- who this week announced his separation from Jenner, 57 -- has refused her attempts at a staged reunion and even wants off Keeping Up With The Kardashians, contrary to published reports.
Article continues below advertisement
"Bruce feels he's done with the Kardashian reality shows," a source close to the production revealed to Radar.
"He has told Kris and producers of the show that he wants out, but he is under contract to film one more season."
In 2012, Kris inked a whopper deal with E! for three more seasons of the family's hit TV show that was rumored to be worth more than $40 million — making it the most profitable deal in reality history.
There is one season to run.
"There is no way E! will let Bruce out of the contract because viewers will want to see how the family deals with the split," the insider added.
"Bruce is stuck and under contract. He knows that the split storyline is inevitable.
"But in reality, all Bruce wants to do is golf, fly his helicopters and spend time with his kids, including Brandon and Brody."
If Kris gets her way, however, her husband of 22 years will subject himself to a warts and all reality television examination of their doomed romance.
Article continues below advertisement
"Kris has no desire to get back together with Bruce, but she wants to film a "reunion" of them attempting to work things out, which would all be designed for the show," the source added.
"It would be far from reality."
Why? Of major concern to the matriarch is that their one might empire seems to be sliding: As we revealed, the one-time hit show gathered a mere 1.79 million viewers overall on Sept. 29.
What's more, only one million viewers between the ages of 18 and 49 tuned in, which is said to be the most important demo in television, compared to the Season 8 premiere, We're Having A Baby, that boasted 3.02 million overall viewers.
"Kris has become obsessed with the slipping ratings," the source said.
"She knows that a great storyline to win back viewers would be to watch Kris and Bruce to start dating again -- and perhaps, even get married again. But it's a pipe dream, because Bruce won't allow it.
"He has been very clear to everyone, behind-the-scenes. He won't fake scenes or story-lines anymore."
Filming will continue for the next several months, Radar has been told.
But, "Bruce won't be filming with Kris. He will participate in scenes with daughters Kendall and Kylie. But rarely, if ever, will you be seeing Bruce and Kris together… alone."