Kris and Bruce Jenner's Stunning Separation -- 10 New Developments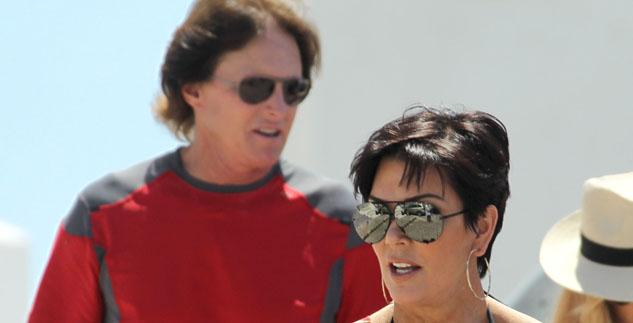 Kris and Bruce Jenner's separation announcement didn't come as a surprise to the family insiders who have been telling RadarOnline.com for months that they were no longer living under the same roof and as they scramble to maintain their reality TV images we've compiled a list of the 10 new developments in their broken marriage.
10. The usually prolific tweeting family is strangely silent about the split. Kim, Kourtney and Khloe Kardashian haven't said a word about their mom and step-dad calling it quits on line and neither have Kendall or Kylie Jenner.
Article continues below advertisement
9. The only child who has spoken out is Rob Kardashian, Kris' only son, to Entertainment Tonight about the split . "Bruce has been in my life since I was two years old and that will never change and same obviously with my mom…same with my sisters, there's no bad blood," he said. " Even between my mom and Bruce there's no negative, bad blood…I don't think they can be in a happier place right now."
8. The show must go on! Kris and Bruce splitting up is just another story line on Keeping Up With the Kardashians, with cameras still rolling to capture the distress that will be manufactured for the public announcement. The season hasn't wrapped filming yet and everyone is signed up for another one to come, so it's business as usual for the family.
7. Bruce is a doting daddy and he bonded with his youngest children, playing golf with daughters Kendall and Kylie Jenner as their reality show cameras filmed the outing on Tuesday. As RadarOnline.com previously reported, one strain in his marriage was over how the girls were allowed to drop out of school to pursue their careers. But the stress might be getting to the family, as all three of them were snapped flipping off the photographers.
Article continues below advertisement
6. In an extreme change from her usual public appearances, Kris has been hiding from the public as well, and the last photographs of her were at her Calabasas mansion moving boxes, perhaps with Bruce's belongings in them?
5. Kris and Bruce tied the knot after a short seven month courtship but 22 years later as RadarOnline.com exclusively reported, they will have to split their $125 million fortune 50/50 since they didn't have a prenup.
4. They have one shared house together, a McMansion in Calabasas worth approximately $10 million and while Bruce moved out they are most likely going to fight over that.
3. Bruce has been living in a rented Malibu beachfront mansion ever since Kim and baby North West arrived at the home he shared with Kris.
2. "It was time for them to move on," Bruce's daughter from his first marriage, Cassandra Marino, reportedly said. "I think this is a decision that they have not come to lightly," and she said Bruce is handling the split well. "I wouldn't say that he's happier. I would just say he's doing fine."
1. Caught in a lie! Kris has been adamant that she and Bruce were still sleeping together in June, but in fact they have been separated for a year and are just now admitting what RadarOnline.com has consistently reported for months, that they are ending their 22 year marriage.