Not-So-Fantastic Plastic Men! 10 Celeb Guys Who've Gone Too Far Under The Knife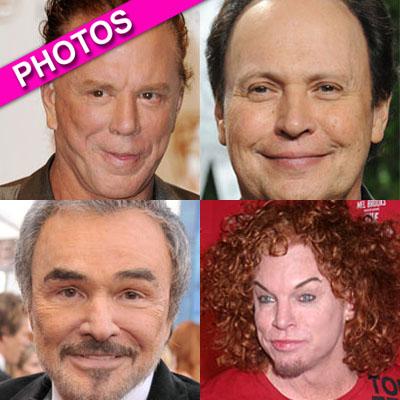 Hollywood's most beloved ladies aren't the only victims of bad plastic surgery!
Though it's more common for women to go under the knife, several Hollywood hunks have also indulged in more than a little nip-and-tuck, with the end result being far more plastic than fantastic! RadarOnline.com has photos of ten men who have gone too far with plastic surgery.
All eyes were on Billy Crystal at the 2012 Academy Awards, and not just because of his stellar hosting skills. The 64-year-old actor and comedian sported a drastically different face on the stage of the annual awards show, spawning instant plastic surgery chatter! "I suspect he's had a little help from a plastic surgeon, specifically with laser skin tightening treatments," Dr. Anthony Youn, who has not treated Crystal, told RadarOnline.com. "Billy may have undergone some injections of filler like Restylane to smooth out some lines, as well."
Article continues below advertisement
Back in his prime, Bruce Jenner, 63, was one of the hunkiest Olympian athletes in the world, but the Kardashian step-patriarch looks a little altered these days. He has admitted to going under the knife and getting a nose job, but numerous experts maintain that he has got much more extensive surgery than he is copping to.
Axl Rose was one of the biggest rock stars of the 1980s and 90s as lead singer of Guns N' Roses. After the band split up, Axl, 50, seemed to disappear from the spotlight, returning several years later looking almost unrecognizable. Though he has never admitted to getting work done, several experts have unanimously agreed that he has gone under the knife.
And Mickey Rourke, 60, was one of the hunkiest Hollywood stars in his 1980s heyday, staring in movies like 9 1/2 Weeks and Wild Orchid. After a brief career in boxing, the legendary actor turned to doctors to put his face back together - and the result was disastrous. He made his career comeback in 2008, starring in the hit movie The Wrestler, but unfortunately his looks didn't return! Recently, photos of the actor after his latest plastic surgery session hit the web, and they were a little more than disturbing.