And The Oscar For Best Plastic Surgery Goes To...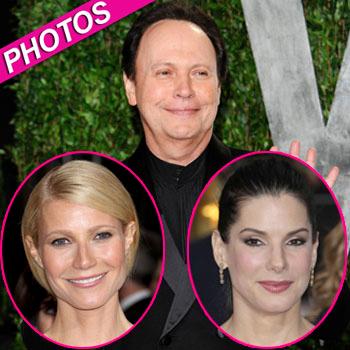 By Debbie Emery - RadarOnline.com Reporter
Hollywood's biggest night of the year, the Academy Awards, cause many an A-list star to go to extreme measures to look red carpet ready, from starvation diets and intense fitness regimes, to the inevitable trip to the plastic surgeon.
While many celebrities nipped and tucked subtly enough that no one noticed, some stars went a little too far, and RadarOnline.com has exclusive details of their age-defying makeovers.
Article continues below advertisement
Host Billy Crystal didn't wow the audience with many memorable moments during Sunday night's show, with many viewers criticizing him for being past his prime as he took the stage for the ninth time, and it soon became clear that the years had paid their toll on his face as well as his jokes.
"Unfortunately, Billy Crystal couldn't hold back the hands of time," celebrity plastic surgeon Dr. Anthony Youn, who has not treated these stars, told RadarOnline.com in an exclusive interview. "Billy's hairline is receding, his neckline is dropping, yet he's as entertaining as ever."
"We shouldn't expect him to look like he did in When Harry Met Sally, since it was over 20 years ago, and besides, his costar Meg Ryan hasn't exactly aged gracefully either."
Dr. Youn went on to reveal how he thinks the 63-year-old City Slickers star has gone under the knife.
"I suspect he's had a little help from a plastic surgeon, specifically with laser skin tightening treatments. Billy may have undergone some injections of filler like Restylane to smooth out some lines, as well. I doubt he's had recent major surgery, however, nor Botox, since his ability to move all the muscles in his face didn't appear affected."
Article continues below advertisement
One star-gazer on the red carpet told RadarOnline.com that presenter Gwyneth Paltrow wore a frozen mask as she walked past the crowds into the Academy Awards.
"She was pulled in all the wrong places and looked very unnatural," said the eyewitness. "It appeared that she could barely move her face to talk to the reporters."
Dr. Youn thinks that although 39-year-old Gwyneth looked stunning, her pristine and flawless skin had no doubt benefited from "a combination of makeup and chemical peels. I suspect that she may have also had the help of a little Juvederm injectable filler here and there to fill in the wrinkles.
"Any plastic surgery she's had is subtle, conservative, and well-done. You don't have to be Shallow Hal to appreciate her beauty!"
Another former Oscar winner who also looked like she had undergone a few injections was 47-year-old Sandra Bullock.
"Like other Hollywood starlets, I suspect that she's had the help of regular facials and mild chemical peels. I doubt she's had surgery, however. In fact, the best thing she's probably ever done to improve her Oscar 'look' is to drop that deadbeat Jesse James," said Dr. Youn.