'Sloppy' Scott Leaves Kourtney Livid On 'KUWTK' Preview: 'This Is Exactly What I Don't Need!'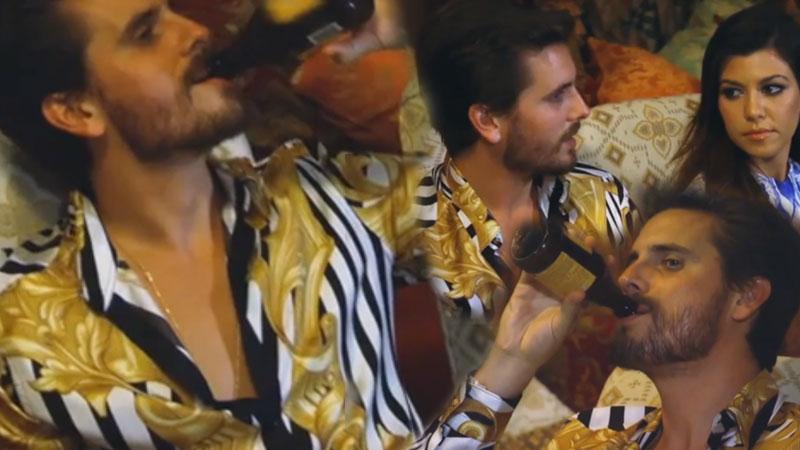 Less than two months after he was hospitalized for alcohol poisoning, Scott Disick is up to his wild ways on a new previous for Keeping Up With the Kardashians.
In the clip, the soon-to-be father of three downs a bottle of booze and shouts obnoxiously during a quiet family gathering.
"Scott is starting to get a little sloppy," baby mama Kourtney Kardashian, 35, shares during a show confessional. "This is just exactly what I don't need."
Article continues below advertisement
Sister Kim soon steps in to calm Disick down.
"Maybe don't drink anymore so you can have a good night," she calmly suggests to the hard-partying star, to no avail.
'When Scott acts like this, he's really unpredictable," Kim explains to the cameras. "I get every once in a while is fine, but just not to this level. Not this hardcore."
But hardcore is just the failed restaurateur's way. After a night of heavy partying sans low-key Kourtney for his 31st birthday in a Hamptons, New York club on June 23, Disick was admitted to Southampton Hospital at 1:03 AM for "overconsumption of pills and alcohol," a source told RadarOnline.com at the time.
MORE ON:
Keeping Up With the Kardashians
The reality star's aunt Audrey Martone blamed the boozy disaster on grief over his parents' recent deaths. (Jeffrey Disick died at age 63 less than three months after wife Bonnie passed away at the same age in November 2013.)
"Scott lost both parents in a very short period of time, and I think being without them right now is a sad reminder," Martone explained to Radar. "I feel for him and I try to give him the benefit of the doubt. Everyone has their own way of grieving, and I respect that."
Disick's drinking has long been a source of fighting between the couple: On June 9, the troubled star checked into a motel near the family's Hamptons rental mansion after an epic blowout.