Exclusive
Scott Disick Mourns Sudden Death Of Dad Jeffrey, Less Than 3 Months After His Mom Died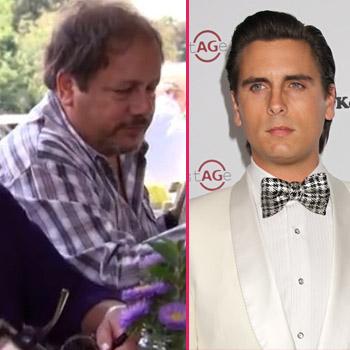 The father of reality star Scott Disick has died, RadarOnline.com has confirmed.
Jeffrey Disick, a real estate developer, passed away last week, less than three months after his wife Bonnie died at age 63.
It is not known what took Disick's dad's life.
The Keeping Up With The Kardashians star has been silent on his father's death and has not posted to his social media accounts since Dec. 31.
Father-of-two Disick, 30, was an only child.
Article continues below advertisement
Jeffrey and Bonnie raised their son in Eastport, Long Island, New York, until he swapped coasts and found fame and fortune as a member of the famed E! television family.
Unlike his son, Jeffrey had kept out of the spotlight and made only a handful of cameo appeared on Kardashians' programs.
However, in 2012, it was revealed that he had previously been arrested for grand larceny.
Formerly in the apparel business in New York City, Jeffrey turned himself in to officers of the Suffolk County (N.Y.) District Attorney's Office after someone alerted the authorities that he had stolen money a year earlier from a bank near the Disick family home in the Long Island town of Eastpor.
Jeffrey was charged with a felony count of grand larceny for "acting in concert with another person" to "steal in excess of $3,000 from North Fork Bank."
He later pled guilty to a misdemeanor charge of petty larceny, paid $6,500 in restitution and was sentenced to 140 hours of community service in lieu of 30 days in jail.