Scott Disick Spins Out Of Control! Kourtney Kardashian Reportedly Begs Him To Go To Rehab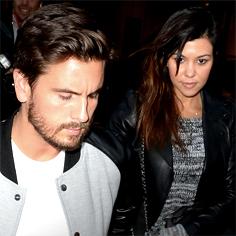 Article continues below advertisement
"She wants him back in rehab or going to AA meetings at the very least. They've got a wedding to plan for next year and she's not having it ruined by a drunken groom."
On Dec. 7, Scott was spotted swaying, staggering and looking bleary-eyed at future brother-in-law West's Yeezus concert in Houston, Texas.
Just a week earlier, Disick – who has two kids with Kourtney, Mason, 4, and Penelope, 18 months – was partying it up in Arizona, where he was seen pouring vodka shots over college students at a Tucson bar in photos exclusively obtained by Radar.
"Kourtney doesn't want her kids to have a drunk dad," the insider added.
"She's read up on how it affects kids for the rest of their lives, so she wants to stop this before it gets out of hand."
For more exclusive details about Kourtney's intervention for Disick, pick up the latest issue of the National Enquirer on newsstands Friday.