'KUWTK' Konflict: Khloé Outraged As 'Selfish' Lamar Plays Emotionally Draining 'Mind Game' By Leaning On Her Over Dying Dad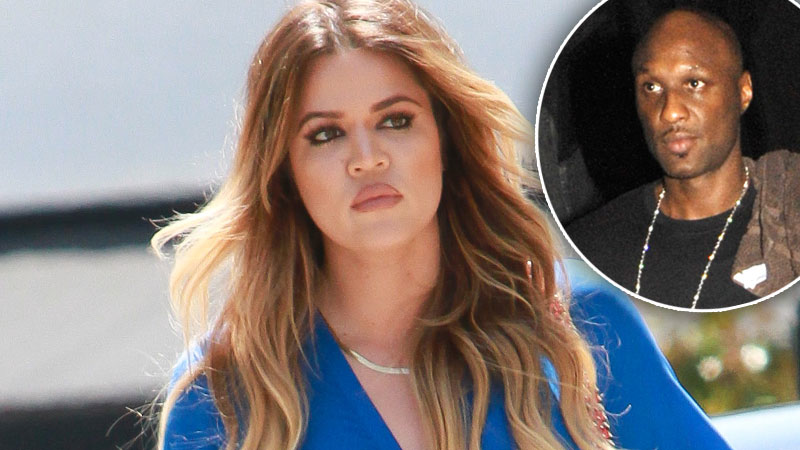 Khloé Kardashian hasn't finalized her divorce from Lamar Odom yet, and Sunday night's episode of Keeping Up with the Kardashians showed her painful phone call with the basketball star who cheated on her and allegedly abused drugs.
At the end of the show, Khloé was speaking with her estranged husband and although viewers couldn't hear his side of the phone conversation, they were discussing his father Joe's illness.
Article continues below advertisement
"I don't hear from you for months and I call and call and call and this is when I hear from you?" a distressed Khloé told Odom. "So go see your father if he's really dying or you're going to regret it later and you're going to use that as an excuse -- you use everything for an excuse.
"Go see your dad so you have peace. I don't know what else to tell you."
Then, in response to something Odom said on the other end, Khloé sternly called him out over the phone, snapping, "Another good mind game on your part!"
"If that's what's going to benefit you, go ahead. But when I need you and you disappear for two months — that comment you just made is such a selfish, one-way relationship. You need to speak to me so I can fix the problem, then when I need you to do anything, I can't find you for months. That's not fair."
Khloé told the cameras she'll always be there for Odom, but, "It's so draining. It's just this emotional roller coaster. I don't know how healthy it is."
Article continues below advertisement
Kim took her through the room intended for their baby North West, and a nursery for a hoped-for second child as well.
"By the time we move in, I'll probably be pregnant," Kim predicted to her granny.
But as RadarOnline.com readers know, North, who just had her first birthday, won't be getting a sibling any time soon, as sources exclusively told us that the couple have put their baby plans on hold due to "constant fights" over balancing family time with their respective careers.
Article continues below advertisement
Also on the episode, viewers saw Kim still couldn't stop talking about her "dream come true" Vogue magazine cover with West. Khloé and Kourtney were exasperated, but later, they gave Kim a framed blow up of the cover that came out earlier this year.
"My first family photo is in Vogue — that's major," Kim gloated.
And as RadarOnline.com has previously previewed, Kris and her mom Shannon ate medicinal marijuana gummy bears after the elderly woman, 78, needed them for back pain and urged her reality TV star daughter to also partake. Estranged husband Bruce Jenner was horrified.
On Sunday night, fans saw what happened before that scene, however, as Kris talked to a doctor about her mom's pain and how medicinal marijuana could help.
"My mom is my hero. Many years ago, she overcame breast cancer and colon cancer," Kris revealed.
In a humorous aside, viewers also learned about Shannon's three marriages.
"I beat Kim," Shannon smiled, referring to how she'd only been married 60 days to her first husband, her high school sweetheart. As the world knows, Kim was only married 72 days to second hubby Kris Humphries.
But now Shannon is elderly and experiencing back pain — and Kris went to a medical marijuana doctor and found out how pot could be her mom's wonder drug. (She was surprised to find out later that Shannon already had obtained her marijuana gummy bears).
Kris also convinced the doctor to give HER a medical cannabis recommendation, with the famed mom-of-six telling the doctor she had neck pain and had undergone three epidurals.