'KUWTK' Drug Shocker: Kris Jenner And Mother M.J. Caught Eating Medical Marijuana Gummy Bears!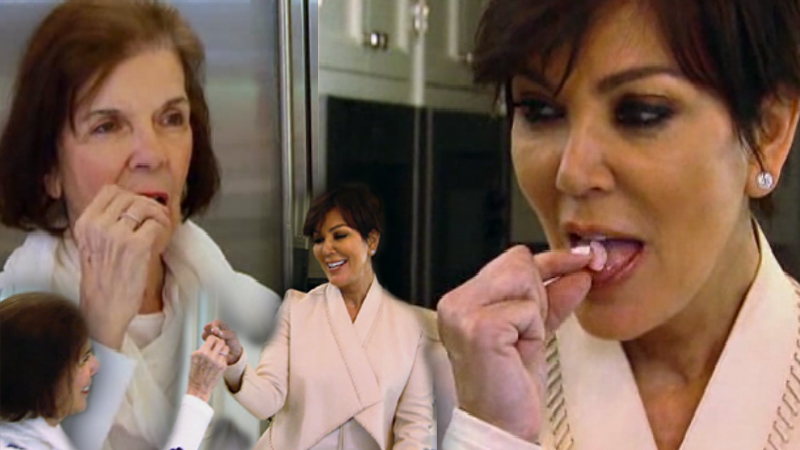 While Rob Kardashian continues to deny rumors of drug use, his mother Kris Jenner and grandmother Mary Jo Shannon flaunted their own in front of the cameras recently, and RadarOnline.com has all the details. Jenner and Shannon are shown getting the giggles and the munchies after eating medical marijuana gummy bears in a new preview clip for Sunday night's episode of Keeping Up with the Kardashians.
Article continues below advertisement
"I need to take my medication," Shannon, 78, says, and startles Kris by suggesting, "I think you should do it with me…It's a good thing."
The Kardashian momager agrees to try the pot candy "this one time" and she and her mother chew down the gummy bears, with Kris making a face at the taste.
Kris, 58, tells the cameras, "I never thought in a million years I would be doing this with M.J."
In a later scene, Shannon says her back feels better and both she and Kris start giggling and chowing down on popcorn, chips, and guacamole.
But Jenner's estranged husband Bruce is horrified when he stops by and finds out what they've done.
"We're trying out a remedy for M.J.'s back pain … Do you know what marijuana is?" Kris teases her former decathlete hubby.
"Yes, I do and I won't have it in this house," he fumes. "I want that … out of the house."
Bruce fumed, "I hate drugs and to have Kris and her mom treat this like a joke really upsets me."
Shannon's use of medical marijuana – and Kris acting as her enthusiastic enabler -- isn't news to RadarOnline.com readers, however.
As RadarOnline.com exclusively reported, Kris was seen ringing in the Easter holiday this spring by buying a bong for her mom at a Sherman Oaks, California smoke shop.
WATCH the high-larious clip here:
youtube