Momager Money Medal: Kris Jenner Says She 'Should Have Gotten A Medal' For Cleaning Up Their Financial 'Mess' After Bruce Jenner Squandered Riches On Toys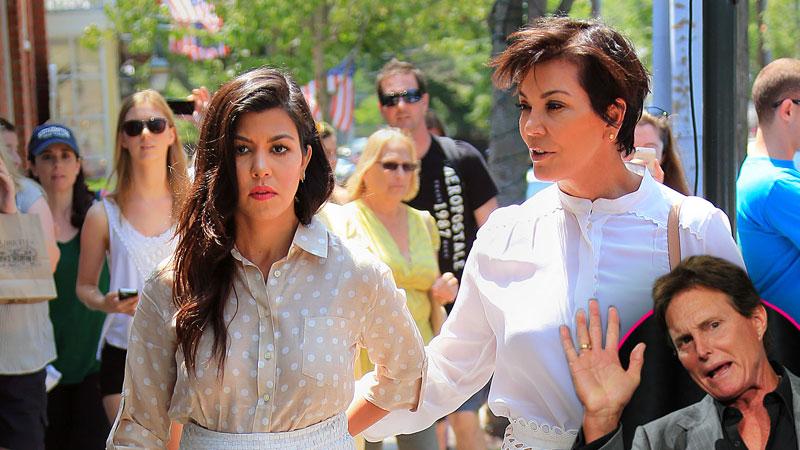 Kris Jenner revealed on Sunday night's Keeping Up with the Kardashians that she and Bruce Jenner once were flat broke, and that she deserved a medal for cleaning up their financial mess.
During the episode, viewers saw the Momager criticize daughter Kourtney Kardashian for letting her baby daddy, Scott Disick, decide whether he wanted to own a helicopter and park it in their backyard. But Kourtney said she didn't want to be like Kris, who drove Bruce away with her controlling ways.
Article continues below advertisement
Kris then told E!'s cameras that there was a reason she took the relationship reins: "When Bruce and I started dating, he had a lot of toys.
"He had jet skis and motorboats and snowmobiles and a house on Lake Tahoe but the truth is, we owed hundreds of thousands of dollars in taxes. We didn't have any money."
In a reference to Kendall Jenner, her first daughter with Bruce, Kris added, "We had four kids to take care of and another one on the way."
She told Kourtney, "The fact that I was the one who went and cleaned up the mess, I should have gotten a medal for that. I had to be the practical one and get rid of some of these crazy expenses."
Kris, 58, pointed out how expensive it would be to maintain a helicopter and said Disick's idea was "irresponsible and financially not smart."
However, Kourtney told the cameras she didn't want to kill his joy.
Article continues below advertisement
Watch the video on RadarOnline.com:
youtube=https://www.youtube.com/watch?v=Y-k9EKxo2F4&w=560&h=315
Later, Disick decided Bruce, 64, would be his helicopter pilot and even gave him a uniform for the job.
Bruce recalled owning his own plane and Kris revealed they gave the mile high club a whole new spin: "He had sex with me in the back of the plane," while no one was flying it!
Kris told Bruce, "Your reflexes might not be the same. This is a dangerous job."
After Kris grilled Kourtney again about why she was letting Disick get the helicopter, her daughter declared, "I'm not being bossy like you."
"My mom has been telling Bruce what to do for years and years," she told the cameras. "It makes Bruce resentful so I definitely don't want to be in that situation."
Ultimately, Disick realized the helicopter was going to take up half the backyard and could be dangerous for their two kids.
Article continues below advertisement
Later, he decided to put a big slide in the backyard for them and was glad he'd made the decision on his own.
Meanwhile, Kris asked Kendall if she was controlling when it came to Bruce, and her daughter said she had a strong personality.
Kris, who separated from Bruce last year, explained to Kendall, "We still love each other and we still are family. It's just sometimes people need a break from each other."
During a day in Malibu with Bruce, Kris admitted to him she had told Kourtney to shut down Disick's helicopter dreams.
"Do you think I'm that crazy controlling?" she asked her estranged husband.
"Of course!" Bruce replied.
Kris felt horrible and said, "I don't want to be a crazy b*tch."
Bruce said she wasn't a bad person – just had a strong personality.
"I still feel I made the right choices but had the wrong approach," Kris told the cameras.
Article continues below advertisement
The family matriarch apologized to Bruce for standing in the way of things he wanted to do in the past.
He said there was no reason to apologize because she had good intentions but she had to let people make mistakes and do it their way. The former decathlete added that she would mellow out as she aged!
Kris told viewers, "I feel guilty for things that happened in the past but I got to apologize and it's a relief Bruce doesn't hold certain things against me. I think other things have caused Bruce and I to grow apart but the good news is, we'll always be really good friends."
Watch the video on RadarOnline.com:
youtube=https://www.youtube.com/watch?v=R9q9bU_YR1w&w=560&h=315
In the other storyline on Sunday's show, Khloe and Kim Kardashian decided to compete against each other in a mud run.
"I totally have to kick her a**," Khloe told the cameras. "I'm going to shove her face in the mud."
Kim countered, "I want to prove that I can beat her."
The wife of Kanye West, who gave birth to their daughter North last summer, bragged that she weighed 125 while her pre-baby weight had been 130.
Khloe eventually body slammed her sister into the mud during the race. However, they wound up bonding over the strange experience of getting down and dirty.