Kris And Bruce Jenner WILL File For Divorce Once Reality Show Ends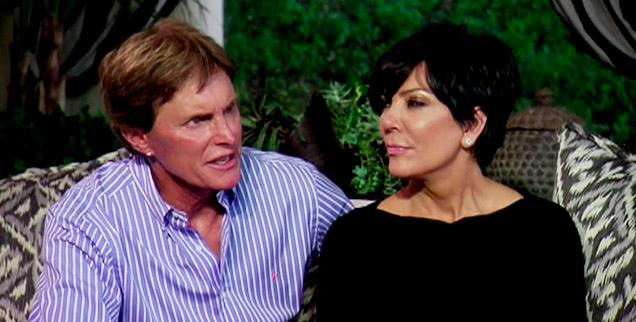 Even though Kris and Bruce Jenner have publicly claimed they have no plans to divorce, the couple is preparing to file divorce papers once their reality TV show concludes, RadarOnline.com has been told.
"Bruce and Kris will file for divorce but not until the current contract for the shows comes to an end," a source close to Bruce told Radar.
"No one would watch if there wasn't drama, separation leaves it up in the air and will make viewers want to tune in. But once it's over, it will be over for the marriage too -- once and for all."
Article continues below advertisement
Keeping Up With The Kardashians is scheduled to remain on E! until 2015, with filming slated to finish in mid-2014.
In 2012, Kris inked a whopper deal with E! for three more seasons of the family's hit TV show that was rumored to be worth more than $40 million — making it the most profitable deal in reality history.
"Kris thinks a long drawn out separation will keep viewers coming back for more and the show needs it, at the moment," the insider added.
As we revealed, America is turning off Keeping Up With The Kardashians with a September episode gathering a mere 1.79 million viewers overall and only one million viewers between the ages of 18 and 49, which is said to be the most important demo in TV, compared to the Season 8 premiere, We're Having A Baby, that boasted 3.02 million overall viewers.
One storyline you won't see, however is 63-year-old Bruce spending more and more time with his ex-wife Linda Thompson -- the stunning former model who once dated Elvis Presley.
MORE ON:
Keeping Up With the Kardashians
Article continues below advertisement
The former Olympic decathlon champ was married to Thompson, 63, until their divorce in 1984. The pair has two sons, 32-year-old Brandon and Brody, 30, the ex-star of MTV's The Hills.
In the months leading up to last week's stunning separation announcement, the one-time couple had reunited, albeit as close friends.
Compounding the drama, Kris, 57, has forever been "insanely jealous" of Thompson – who rose to international fame as Presley's longtime girlfriend after he separated from his wife.
"Linda is not only is she drop dead gorgeous, but she is one of the kindest people on the planet," a source previously told Radar.
"It's not sitting well with Kris that Bruce has been spending time with Linda. Kris is insanely jealous of Linda, and always has been. There is nothing romantic going on between the two at this time. However, Bruce has always had a special place in his heart for Linda and admires what an amazing mother she is to their sons."