Monster Mom! Kris Jenner Calls Daughter Kim a 'Piece Of Sh*t' And 'An Awful Person' In Shocking New Video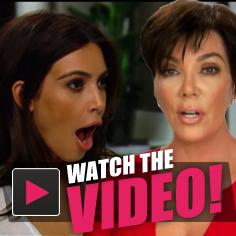 Article continues below advertisement
"It's her responsibility!" counters Kim, adding that sis Kendall, 18, should place puppy Blu in a kennel when she's gone for the weekend.
"You're a pain in the ass, Kim," snarls Kris. "You don't even know how to help!"
"It is so gross, it's like a It's like 101 Dalmations pooped and peed in my laundry room times two," the newly single mom, 58, adds. "I really think my kids think that's its my job to take care of them all, and I'm over it."
Did Kris go too far by lashing out at Kim? Sound off in the comments!