Hamptons Hottie Kim Kardashian Enjoys Mommy Time With North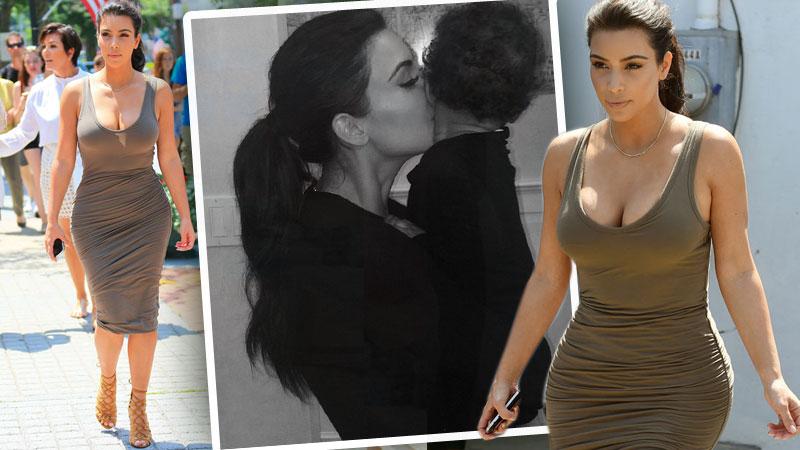 Between her gala wedding, TV filming and other business obligations, Kim Kardashian's had a jam-packed summer, but the socialite slowed things down some to share a shot with her daughter North on Wednesday evening.
"Night!" Kardashian, 33, wrote on a black-and-white profile shot in which she's kissing her adorable toddler daughter. Earlier in the day, the sexy pop culture phenom was captured out and about in the gorgeous area, visiting her DASH location wearing a tight olive-toned skirt that bared plenty of cleavage.
Article continues below advertisement
The socialite waxed on her first year of parenthood in a chat with the blog Romy & The Bunnies earlier this week, saying being a mother to North is "the most rewarding feeling" she's ever known.
"I really love every phase!" the "Bound 2" beauty told the blog. "Just the way my daughter laughs with me, all of the small things in life you appreciate!
The reality TV queen said her favorite activity with her 1-year-old "is taking a nap with her.
"We cuddle and fall asleep holding each other," the doting mom said, adding her "favorite time" is "just snuggling with" her daughter with Kanye West.
Kardashian said that she's slowed things down a notch — becoming more finicky about what projects she does —in her career since becoming a mom.
"You want every other waking moment spent with your family," said Kim. "You have to remember though to make time for yourself. If you feel good, you will be happy in your career and family life and everyone is happy!"