Exclusive
Kimye Wedding Crisis — Stepdad Bruce Jenner Moans He's 'Miserable & Feels Like A Prop' While Kris Jenner Wears Wedding Ring 'For Attention'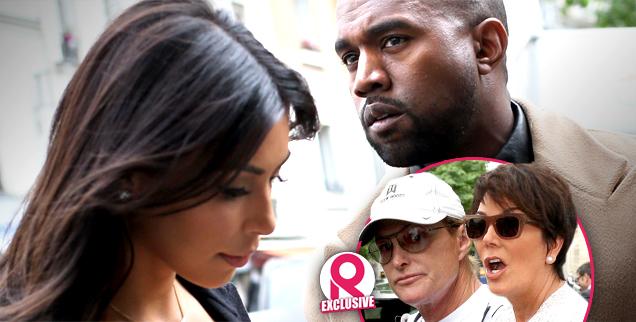 Tres miserables! As Kim Kardashian and Kanye West embark on their weekend of wedding festivities across Europe, the reality star's step dad, Bruce Jenner, is complaining he feels like a prop in Kimye's entourage, while momager Kris Jenner is only wearing her engagement ring in hopes of sparking attention that the couple could be getting back together, RadarOnline.com is exclusively reporting.
"Bruce is having a terrible time, and he is bored out of his mind. Once again he feels like a prop in the festivities. Kris has been barking orders at everyone since they arrived in Paris for Kim's wedding. He just wishes he could have stayed at home and played with helicopters," a source told RadarOnline.com.
Article continues below advertisement
"Kris is only wearing her wedding ring in hopes the media will speculate that she is getting back together with Bruce. There are no plans for the couple to reconcile and Kris is only doing this to get attention."
But it looks like Bruce isn't the only guy who might be miserable in Paris.
RadarOnline.com broke the story: Even though Jay Z is standing up for West in his wedding to the reality TV star as best man, it's a bit of a joke to the rap superstar and his Bootylicious wife.
"Jay thinks the entire Kimye wedding is a joke and it's being blown way out of proportion," an insider told RadarOnline.com.
The "Empire State of Mind" rapper agreed to be West's best man and even sent him a surprise gift.
"The best news came when Jay sent a gift to Kanye with an inscription referring to Jay Z as the rapper's 'Best Man.' The gift was a gold-plated, diamond-encrusted flask, delivered with a $10,000 bottle of scotch, for Kanye to have for his wedding day," an insider previously told RadarOnline.com.
The wedding festivities will wind down on Sunday and "Bruce will be on the first plane out of Paris ahead of everyone else."
The source added, "He has no plans to stick around any longer than needed."