Exclusive
Fatal Dose? Investigators Uncover How Dangerous Drug Propofol May Have Sent Joan Rivers Into A Coma, Source Claims — New Details On How The Health Crisis Unfolded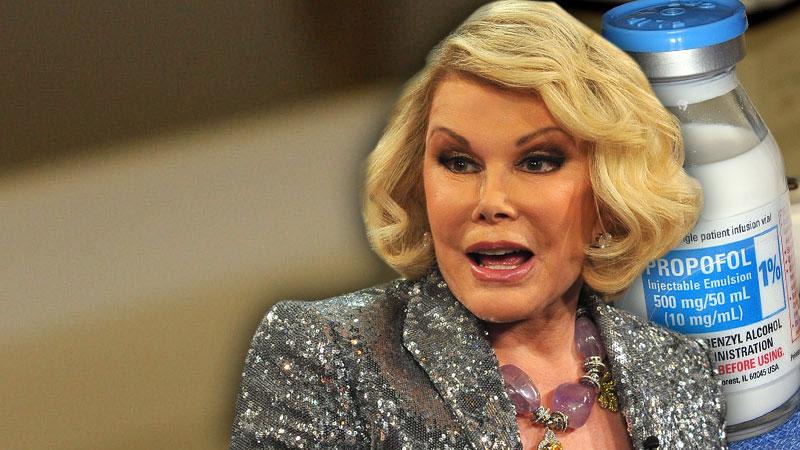 Article continues below advertisement
"Certainly, they suspect the anesthesia was the issue, based on conversations between the staff and city medics," a source close to the investigation told RadarOnline.com.
Staff at the Yorkville Endoscopy Clinic told NYC officials that Rivers stopped breathing just as they were putting her under anesthesia for a routine throat endoscopy procedure, a source said.
According to the investigation insider, paramedics arrived at the clinic on the morning of August 28 to find doctors frantically trying to shove a tube down Joan's throat to get her to start breathing again.
Paramedics were able to successfully intubate her, and she began breathing again after they administered CPR, "but she was in very bad shape," said the official.
Indeed, as RadarOnline.com has reported, Rivers has been moved from the ICU at Mount Sinai hospital in New York to a private room where daughter Melissa said she is "resting comfortably." According to an insider, doctors told the family "nothing more could be done," and so Melissa faces the decision of whether to take her mother off life support.
Article continues below advertisement
Meanwhile, investigators are now looking into whether Yorkville Endoscopy gave her too heavy of a dose, the investigation source claimed.
Patients of the clinic confirmed to RadarOnline.com that the drug is routinely used before colonoscopy and endoscopy procedures. In fact, a patient who received an endoscopy immediately after Rivers said that staff continued to use the drug after Rivers' health crisis unfolded, with one staff member even joking, "How ironic that Rivers was out from the Michael Jackson drug?"​​