'Warm, Gentle, Expressive, Nurturing & Brilliant': Robin Williams' Mrs. Doubtfire Co-Star Mara Wilson Pays Touching Tribute In Blog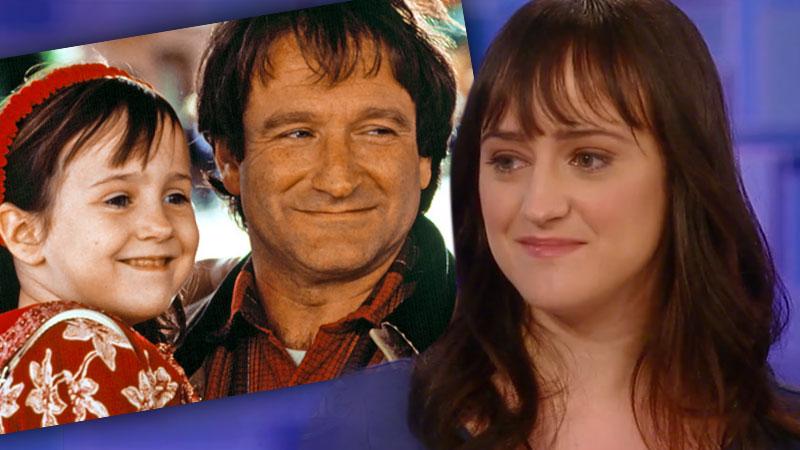 Mara Wilson, who played Robin Williams' youngest daughter in his 1993 smash Mrs. Doubtfire, wrote a lengthy blog detailing her warm memories of the enormously-talented actor, who hanged himself in his Tiburon, Calif. home last week.
The 27-year-old actress-writer, who said she's been "flooded with memories in the past few days," characterized the actor as "warm, gentle, expressive, nurturing, and brilliant."
Article continues below advertisement
Wilson, who played the role of Natalie Hillard in the dramedy, said she vividly recalled Williams knack for ad-libbing while shooting the film.
"Chris Columbus, our director, would let Robin perform one or two takes with what was written, then do as many more takes as Robin had variations," she wrote. "Sometimes I wonder why they didn't give him at least partial screenwriting credit."
The frenetic brilliance that was Williams' impressions, pratfalls and comedic gestures, was not just for the camera, as "Robin would do anything to make me and the other kids laugh.
"He seemed to know instinctively what we would find funny, and never had to resort to saying anything that was inappropriate for children," she wrote. "He was, after all, a father himself."
Wilson, who made a mark as a child star in the 90s with roles in other films such as 1994's Miracle on 34th Street re-make, and 1996's Matilda, said that prior to the comic's death, "Robin and I had not spoken in a few years.
Article continues below advertisement
"We weren't on bad terms, we had just lost track of each other … I wish we had talked more. I wish I had reached out more. Being a Worst Case Scenario kind of person, I've worried so many times about losing so many people I care about, but I never could imagine losing Robin."
She said that she's kept her "private," staying off social media and avoiding "reading or watching avoid any entertainment media.
"I would not have been able to keep it together on television, and people didn't need to see that."
Watch the video on RadarOnline.com:
youtube=https://www.youtube.com/watch?v=d_QbFFMibmU&w=420&h=315
She said that while she's glad that Williams passing has prompted newfound awareness of "mental health, depression, and suicide," she was "afraid people will romanticize what Robin went through.
"Please don't romanticize mental anguish. To focus on someone's pain instead of their accomplishments is an insult to them."
Article continues below advertisement
She closed out the poignant piece with one of her famous lines from the film saying, "I suppose — could I really end this any other way? — we're all his goddamn kids, too."
If anyone you know, is struggling with thoughts of suicide, please immediately seek help. You can speak with a skilled, trained counselor at a national Suicide Prevention Lifeline crisis center in your area, anytime 24/7 — call 1-800-273-TALK (8255).
Article continues below advertisement
Article continues below advertisement
Article continues below advertisement