Exclusive
The Woman Who Discovered Robin Williams' Body REVEALED — Longtime Assistant & Close Friend Rebecca Erwin Spencer Came Upon The Shocking Death Scene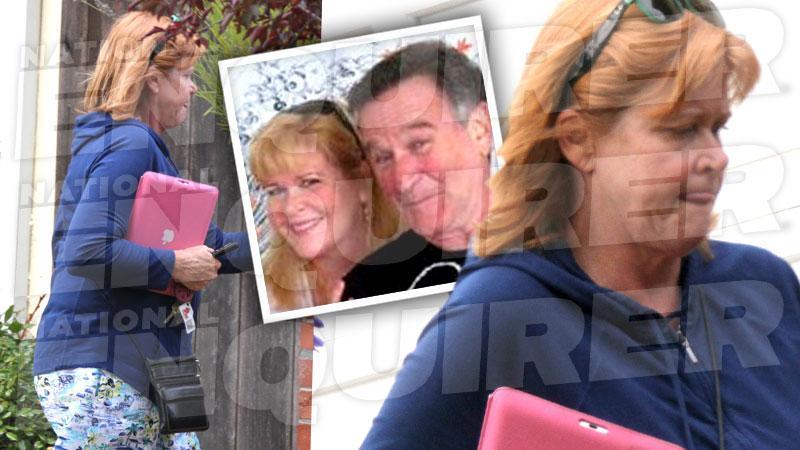 Marin County Sheriffs confirmed Tuesday that Robin Williams' personal assistant had discovered his gruesome death scene on Monday afternoon. Now, a joint investigation by and The National ENQUIRER can reveal that the individual who made the shocking find was William's longtime confidante and friend, Rebecca Erwin Spencer.
Spencer, 57, was spotted at Williams' Tiburon, Calif., home around 11 a.m. on Tuesday morning. "She went into the house for a few minutes before someone in the house let her out of the garage and she left quickly," an eyewitness tells RadarOnline.com.
Article continues below advertisement
She returned to her own home nearby around 4:30 p.m. on Tuesday, and neighbors said she had been in and out of the property since Williams' death. Indeed, a Prius registered to her was seen multiple times at Williams' home.
Though Spencer and her husband, Dan, are a private couple, according to neighbors, friends had gathered at her home in support on Tuesday, and others had left condolence notes and bouquets of flowers outside on her porch.
On Tuesday morning, Spencer posted a photo of Williams on one of his USO tours to her public Facebook account captioned "What a time we had!" Friends chimed in with messages of support.
"You were the wind ," a user named Auntie Kr wrote.
Tom Reilly chimed in, "You were an amazing team. Truly."
And Louise Spotswood wrote, "Rebecca … you gave him so much that was great in his life. You did the best he could have asked for!"
Article continues below advertisement
Williams himself tweeted about Spencer last January, when she snapped a photo of a play performance for him: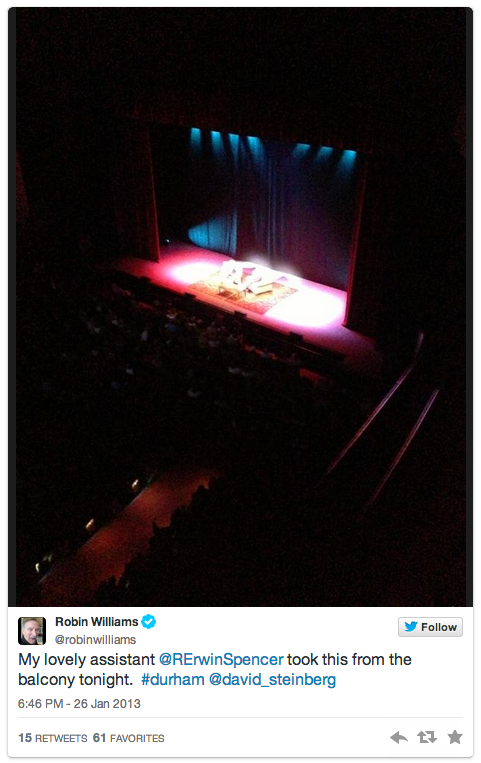 Their personal and professional relationship came to an untimely end on August 11. After Williams was unresponsive to knocks on his bedroom door, Spencer, "was able to gain access to Mr. Williams' bedroom and entered the bedroom to find Mr. Williams clothed in a seated position, unresponsive, with a belt secured around his neck with the other end of the belt wedged between the closed door and the door frame," Marin County Lieutenant Keith Boyd said Tuesday. He also had several "superficial cuts" on his left wrist and a bloody knife was found near his body.
"Mr. Williams at that time was cool to the touch, with rigor mortis present in all of his extremities, and livor mortis positioned appropriately for the position he was located in," Boyd continued.
A "distraught" Spencer called 9-1-1 at roughly 11:55 a.m., and police arrived soon after to pronounce Williams dead.
Just a few days before, Williams had been seen battling his demons at an Alcoholics Anonymous meeting in San Francisco.
Article continues below advertisement
Article continues below advertisement
Article continues below advertisement
Article continues below advertisement