Exclusive
A Lasting Legacy: Robin Williams Made Plans To Leave His Fortune To His Kids In The Years Before He Died — Inside The Secret Trusts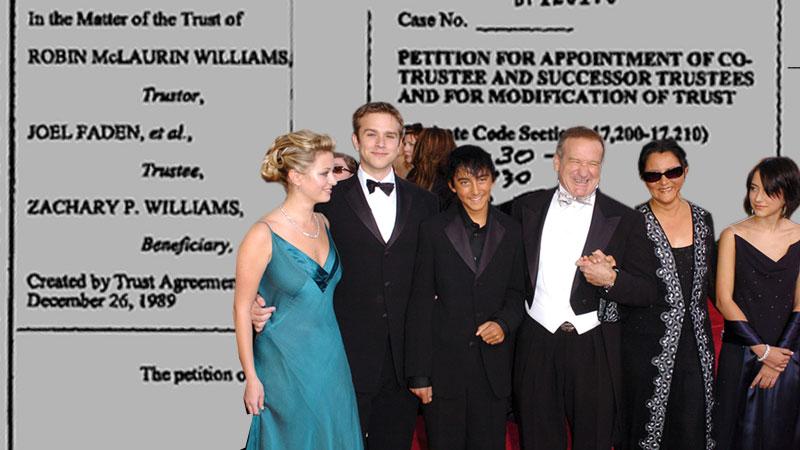 As Robin Williams' children mourn their father, they can at least take some comfort in the fact that their well-being was always at the forefront of his mind. RadarOnline.com has learned that not long after the birth of his first son, Zachary, Williams established a trust that would cover his firstborn child's every need, and years later, he opened another covering his other children as well.
According to legal documents filed by Williams and obtained by RadarOnline.com, he first established a financial trust on December 26, 1989, roughly six years after the birth of his son, Zachary "Zak" Pym Williams, with first wife Valerie Velardi, and just months after the birth of Zelda, born on July 31, 1989, to his second wife, Marsha Garces.
Article continues below advertisement
Originally filed as part of his divorce from Velardi, its purpose was "to provide a source from which their may be paid to Valerie Velardi Williams … sums called for by that agreement" in the event of Williams' death — I.e., alimony and child support.
READ The Documents Divvying Up Williams' Millions
By March 30, 2011, it was updated with a note that Velardi would no longer profit in the event of Williams' death, as "all spousal support obligations" had been satisfied, and that Zak would be the "sole beneficiary" of that trust.
Zak was also "entitled to distributions of principal in such amounts as the Trustees consider necessary for … support, education, and medical care."
According to documents obtained by RadarOnline.com, Williams established another trust covering all the children in December 2009, in the midst of his divorce from Garces. The full extent of that trust's disbursement was planned to occur in stages: "When the beneficiary reaches the age of 21 years … they would receive one third (1/3) of the principal." At 25, they would receive "one half (1/2) of the remaining principal," and at 30 they would receive "the remaining trust property … outright."
Article continues below advertisement
Article continues below advertisement
Article continues below advertisement
Article continues below advertisement