5 Latest Developments In Robin Williams Death: Kids Break Silence, Daughter Deals With Bully Trolls, While Late Night Kings Pays Homage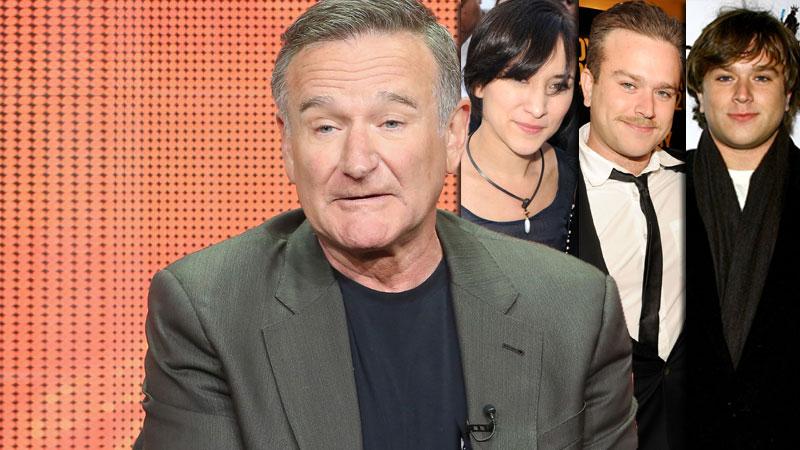 The world continues to remember the late Robin Williams after authorities said he hanged himself early Monday, and RadarOnline.com takes a look at all of Wednesday's latest news in the actor's shocking and heartbreaking suicide.
Family Breaks Silence
Williams' kids — Zak, 31, Zelda, 25, and Cody, 22 — broke their silence regarding their father's passing, remembering their father in moving, poignant tributes.
Article continues below advertisement
Zak Williams said that "yesterday, I lost my father and a best friend and the world got a little grayer." Williams eldest vowed he'd "carry his father's heart with me every day" and "would ask those that loved him to remember him by being as gentle, kind, and generous as he would be.
"Seek to bring joy to the world as he sought."
Cody said that "there are no words strong enough to describe the love and respect I have for my father." He went on to say that "the world will never be the same without him," and he'll "miss him and take him with me everywhere I go for the rest of my life, and will look forward, forever, to the moment when I get to see him again."
Zelda, who previously tweeted in memoriam of her late patriarch, issued a detailed statement, saying, "My family has always been private about our time spent together. It was our way of keeping one thing that was ours, with a man we shared with an entire world. But now that's gone, and I feel stripped bare. My last day with him was his birthday, and I will be forever grateful that my brothers and I got to spend that time alone with him, sharing gifts and laughter.
Article continues below advertisement
She said that her father "was always warm, even in his darkest moments. While I'll never, ever understand how he could be loved so deeply and not find it in his heart to stay, there's minor comfort in knowing our grief and loss, in some small way, is shared with millions. It doesn't help the pain, but at least it's a burden countless others now know we carry, and so many have offered to help lighten the load. Thank you for that. To those he touched who are sending kind words, know that one of his favorite things in the world was to make you all laugh."
"As for those who are sending negativity, know that some small, giggling part of him is sending a flock of pigeons to your house to poop on your car. Right after you've had it washed. After all, he loved to laugh too… Dad was, is and always will be one of the kindest, most generous, gentlest souls I've ever known, and while there are few things I know for certain right now, one of them is that not just my world, but the entire world is forever a little darker, less colorful and less full of laughter in his absence. We'll just have to work twice as hard to fill it back up again."
Article continues below advertisement
Marsha Garces Williams, the actor's wife from 1989 until 2010, said that her "heart is split wide open and scattered over the planet with all of you.
"Please remember the gentle, loving, generous -- and yes, brilliant and funny man that was Robin Williams," she said. "My arms are wrapped around our children as we attempt to grapple with celebrating the man we love, while dealing with this immeasurable loss."
No More Social Media
In related news, Zelda Williams Tuesday said she won't be using Twitter and Instagram for awhile after receiving a flurry of "cruel and unnecessary" messages and photoshopped pictures relating to her father's death. She wrote on Instagram, "I will be leaving this account for a while I heal and decide if I'll be deleting it or not. In this difficult time, please try to be respectful of the accounts of myself, my family and my friends. Mining our accounts for photos of dad, or judging me on the number of them is cruel and unnecessary. There are a couple throughout, but the real private moments I shared with him were precious, quiet, and believe it or not, not full of photos or 'selfies.'" After Zelda jousted with trolls Tuesday, she tweeted, "I'm sorry. I should've risen above. Deleting this from my devices for a good long time, maybe forever. Time will tell. Goodbye."
Article continues below advertisement
Late Night Tributes
Conan O'Brien, who somberly announced the death as he wrapped up Monday's broadcast, crowned the late comic as "best talk-show guest ever" and "fantastically funny." He recalled a fun-loving gesture Williams made to him during his tough time losing The Tonight Show in 2010, sending him a bicycle, "out of the blue" -- that was orange and green and decorated with shamrocks.
Watch the video on RadarOnline.com:
youtube=https://www.youtube.com/watch?v=b_6wYQC9n3U&w=560&h=315
"It looked like a Mardi Gras parade!" Andy Richter joked.
"So I called him up and just said, 'Robin, I'm really floored by this bike,'" O'Brien recalled. "And he went, 'Does it look ridiculous?' Does it really look ridiculous? Do you really look stupid riding it?' And I said, 'Yeah, I'm going to look really stupid,' and he said, 'Well, that's good then.'
Article continues below advertisement
"He had just that amazing spirit of fun — the generosity, but also the fun at the same time, and so often I would look at that silly bike and think, what a wonderful spirit."
Jimmy Fallon, on Tuesday evening's Tonight Show, paid homage to the late comedian, who always stole the the show in his appearances, dating back to the Johnny Carson and Jay Leno eras. Fallon said, "Before we start, We, like all of you were shaken up a bit last night when we learned that genius comedian and actor Robin Williams passed away. He was one in a kind. He was one in a million." The host then stood on his desk in a nod to Williams' Dead Poets Society, saying, "Oh captain, my captain, you will be missed."
Watch the video on RadarOnline.com:
youtube=https://www.youtube.com/watch?v=4qquQNxKJxw&w=560&h=315
Tribute From The Troops
Williams was quietly a modern day Bob Hope in his frequent appearances on USO shows, entertaining the troops with his treasure chest of voices, witticisms and ad-lib. In a statement, the USO said that the Good Morning, Vietnam star "shook every hand, signed every autograph, and hugged every person" over his performances for 89,000 military personnel over six tours in 13 different countries. "He understood the energizing effect laughter has in times of stress and he channeled his incredible energy to help those experiencing the loneliness, fear and uncertainty of being far from home and loved ones the chance to relax and recharge."
Article continues below advertisement
Watch the video on RadarOnline.com:
youtube=https://www.youtube.com/watch?v=Mmoo8JgV0Lk&w=560&h=315
Controversies Abound
A few media outlets quickly backpedaled Tuesday after their coverage of the death raised eyebrows, and in some case, tempers. Shepard Smith of Fox News made a mea culpa after his rambling speculation on suicide, saying that "something inside you is so horrible, or you're such a coward, or whatever the reason that you decide you have to end it." He issued a statement Tuesday calling Williams "a one-of-a-kind American treasure," adding that he regrets "using any word during the hour-long special, reflecting on his extraordinary career, that would appear I disparaged him in any way."
youtube=https://www.youtube.com/watch?v=cPQj7NipZLs&w=560&h=315
"I have no way of knowing the depths of Mr. Williams' suffering but I never meant to suggest that he acted in any such manner," he said.
Britain's Channel 4 News also apologized for the editing of a clip previewing coverage of Williams' death, using an excerpt from Good Morning Vietnam, in which Williams used the line, "Get a rope and hang me," as officials confirmed that the actor used a belt to hang himself. A rep for the station said, "We'd like to apologize for including what was an inappropriate line from Good Morning Vietnam in our play-out from tonight's program.
Article continues below advertisement
Article continues below advertisement
Article continues below advertisement
Article continues below advertisement