5 Latest Developments In Robin Williams Death: Star 'Insisted' On Boozing During Filming Of CBS Show, Dreaded Emotional Investment In Movies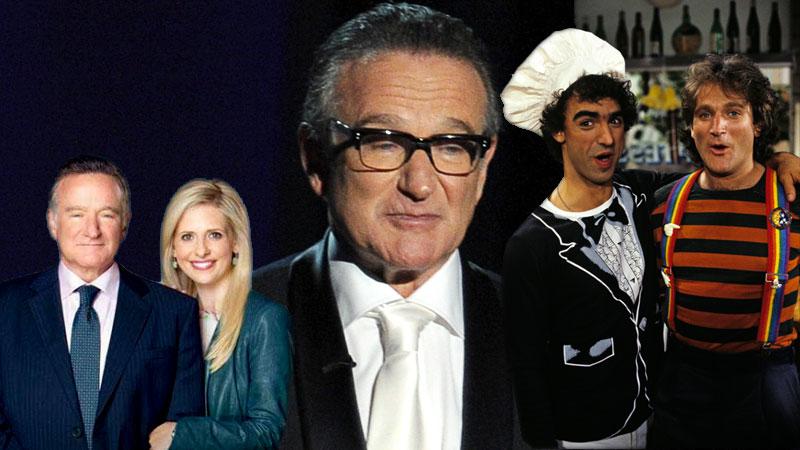 Article continues below advertisement
"Robin had promised himself he would not do any more as he invested so much in his roles that it," the friend said, adding that the actor, who'd signed on to do a sequel of his 1993 smash Mrs. Doubtfire, "didn't like being away from the family for too long, which was a big issue for him when he was shooting films."
Despite his trepidation undertaking additional film projects, "He signed up to do them purely out of necessity," his friend said, noting that while the actor "wasn't poor … the money wasn't rolling in anymore, and life is expensive when you have to pay off two ex-wives and have a family to support."
The friend went on to say that Williams was amendable to return to TV with The Crazy Ones — for which he reportedly earned $165,000 per episode — because "it was filmed nearby his home in San Francisco and producers were very flexible with him.
"He was hit hard when they cancelled it — it was helping him pay the bills."
The friend said Williams' suicide was unexpected to him: "I fear his family, while shocked and saddened, may have had more of an idea it was coming."
Article continues below advertisement
'One Drink Led To Another'
Williams, a recovering alcoholic who spent time in a Minnesota's Hazelden rehab facility in the months before his death, "insisted on consuming a real drink" during a May 2013 taping of The Crazy Ones at Beverly Hills Spago, a source told the NY Post.
"No one had seen him drinking before this — one drink led to another, but it seemed to calm him down."
Williams' famous off-script ad-libbing irritated his co-stars on the show, the source said, feeling his craving for the limelight was detrimental to the health of the series. The actor himself said he'd "had a bad feeling" regarding the cast's chemistry on the comedy, which was canceled by the network in May.
The source added that Williams, during his time filming the one-and-done sitcom, found comfort in bringing his pet pug dog Leonard with him to the set: "When he wasn't filming a scene, he was holding and petting and fawning over the dog."
'He Was Already Developing Those Issues'
SiriusXM host Jay Thomas, who was Williams' co-star on Mork & Mindy for three years from 1979 until 1981, has opened up about his late colleague's somewhat reclusive nature as a breakthrough TV star in the early 1980s, a time when his addictions to cocaine and alcohol were admittedly a navigating force in Williams' life.
Article continues below advertisement
"I tried to be his friend," Thomas told The Times-Picayune Wednesday, recalling a birthday celebration for the star which struck him as odd.
Watch the video on RadarOnline.com:
youtube=https://www.youtube.com/watch?v=6Bb9xuTDAZI&w=420&h=315
"We were staying in the trailer off the set, and I noticed that there was really nobody there who was a big pal of his. A couple women, some guys from the set. And I'm thinking, 'He really doesn't want to go home and hang out with any friends on his birthday?'
"I think he spent the night in the trailer. He was really successful, but I guess he was already developing those issues at that point."
Thomas, in an earlier interview with the NY Daily News, said that the actor "kept you at bay" on a personal level, remembering how after a heart-to-heart conversation with his co-star, he believed they'd "had a breakthrough … but the next day at work, it was as if we'd never spoke and he wasn't friendly."
Article continues below advertisement
'Proper And Meaningful Remembrance'
Williams, whose big break in show biz came on Happy Days, and then Mork & Mindy, will be the focal point of a tribute at this month's 66th Annual Emmy Awards, Executive Producer Don Mischer said Wednesday.
"Plans for the In Memoriam segment are in discussion," Mischer told People. "While we are all still coming to terms with this week's tragic news, we are working to give Robin Williams the proper and meaningful remembrance he so well deserves."
The show airs Aug. 25 on NBC at 8 ET/5 PT.
Williams Jokes Of His '09 Surgery
With Williams' suicide Monday as arguably the most shocking, high-profile celebrity passing in the five years since Michael Jackson's Jun. 2009 death, RadarOnline.com has unearthed this clip of Williams 2011 appearance on The Graham Norton Show, where the comic — with his trademark frenetic ad-libbing — spoke with humor about his own experience when he was administered Propofol during his 2009 heart surgery.
Article continues below advertisement
"Is it true you were on the same drug, that drug that killed Michael Jackson?" Norton asked Williams, who joked, "Yeah, Propofol, which is nicknamed "Milk of amnesia" and … Michael Jackson was taking Propofol to sleep, which is like doing Chemotherapy because your tired of shaving your head.
Watch the video on RadarOnline.com:
youtube=https://www.youtube.com/watch?v=WOIBBE3ObRY&w=560&h=315
"It's like — it's like a drug you wake up — I woke up from my heart surgery after Propofol, I had the surgery in Cleveland. After Propofol, I woke up from the surgery and went, 'Where am I?' And they went, 'Cleveland.' And I went, 'Why?'
Williams aid he "looked down and there was wires and everything and I went, 'Oh I get it.' It's a – it's a devastatingly powerful drug. It has to be administered in a hospital situation, and he was doing it at home."
If anyone you know, is struggling with thoughts of suicide, please immediately seek help. You can speak with a skilled, trained counselor at a national Suicide Prevention Lifeline crisis center in your area, anytime 24/7 — call 1-800-273-TALK (8255).
Article continues below advertisement
Article continues below advertisement
Article continues below advertisement