6 Latest Developments In Robin Williams Death: Daughter Zelda's Touching Tribute, Hollywood Heartbreak & Link To Phillip Seymour Hoffman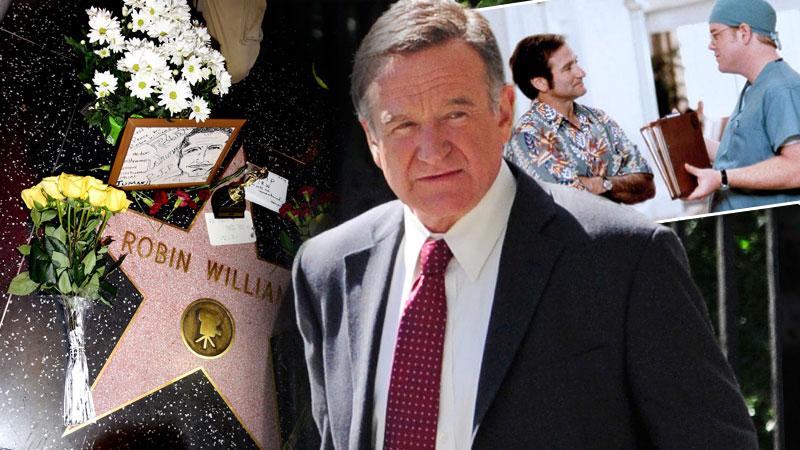 As the world mourns the loss of legendary funny man Robin Williams, who officials said commit suicide via asphyxia at 63 Monday in his Tiburon, Calif. home, RadarOnline.com takes a look at all the latest news in the actor's shocking suicide.
'I'll Try To Keep Looking Up'
Williams' 25-year-old daughter Zelda took to Twitter to pay memorial to her late father Monday, writing, "I love you. I miss you. I'll try to keep looking up." Her farewell was accompanied by a quotation from French writer Antoine de Saint-Exupéry's 1943 novella The Little Prince, saying, "You — you alone will have the stars as no one else has them . . . In one of the stars I shall be living. In one of them I shall be laughing. And so it will be as if all the stars were laughing, when you look at the sky at night … You – only you — will have stars that laugh." The actor is also survived by a pair of sons, Zachary, 31, and Cody, 22.
Article continues below advertisement
Mrs. Doubtfire 2 Expected To Be Nixed
A sequel to Williams' 1993 mega-hit Mrs. Doubtfire, in which a preliminary script had been drawn up, is expected to be canceled in the wake of the star's death, sources told the trade publication Variety, noting that no official word had been passed down early Tuesday. David Berenbaum wrote the first draft and was working with Williams and director Chris Columbus on the revisions. The comedy, which cast Williams as a single father who masquerades as a maid to see his children more, made more than $400 million at the box office and remains one of the most popular films played on cable movie channels. "The world was a better place with Robin in it," Columbus said of Williams Monday, "and his beautiful legacy will live on forever."
Patch Adams Connection
While Williams multi-decade career produced collaborations with Hollywood stars past and present, a second glance at his 1998 film Patch Adams stings particularly Tuesday, as his main co-star in the film was Hollywood's other high-profile loss of 2014, Phillip Seymour Hoffman. The tragic tandem was of note on Twitter, where many paid tribute to both of the actors who prematurely passed. User @alliemorrow_ wrote, "Patch Adams will always be one of my favorites, now with the loss of R. Williams and P. Hoffman all in a year. It won't be the same. #RIP," while @mike_mccahill wrote, "Reminded how PATCH ADAMS, on 'the healing power of laughter', featured Robin Williams *and* Philip Seymour Hoffman. Too many shudders." In another tragically ironic twist, Williams' titular character in the drama checked into a mental hospital with suicidal thoughts.
Article continues below advertisement
Watch the video on RadarOnline.com:
youtube
Conan's Classy Tribute
Conan O'Brien, at the end of filming his TBS talk show Monday, informed his audience of the "absolutely shocking and horrifying" news (though did not specify it was a suicide). The classy comic, said, "This is unusual and upsetting, but we got some news during the show that Robin Williams has passed away. I'm sorry to anyone in our studio audience that I'm breaking this news, this is absolutely shocking and horrifying, and so upsetting on every level." His sidekick Andy Richter called the late comic legend "an amazingly kind and generous person," while guest Will Arnett called Williams "one of the kindest guys that I've ever worked with." O'Brien signed off saying, "We're just processing this information literally right at this moment, and so we are thinking about Robin's family, we're thinking about everybody he touched around the world throughout his life, we're thinking about Robin tonight."
Watch the video on RadarOnline.com
youtube
Posthumous Projects
The actor, who was admittedly working to make up for financial setbacks liked to his two divorces, had completed work on four pending projects at the time of his passing Tuesday: the upcoming holiday film Night at the Museum: Secret of the Tomb, due out Dec. 19; another holiday season release in Merry Friggin' Christmas, due out Nov. 7; vocals on the 2015 comedy Absolutely Anything; and a drama called Boulevard, which has yet to be linked to a distributor.
Article continues below advertisement
The Crazy Ones Colleagues Speak Out
Williams' final major show biz foray was on CBS' The Crazy Ones, the 2013-2014 sitcom that was cancelled three months ago in the face of waning ratings. Despite his reported ire about having to return to the boob tube, Williams was a first-class presence on the set, with an insider telling People the A-list stalwart was "so benevolent," and made sure to acknowledge "everyone else's work." The insider went on to say, "He made sure everyone knew he was part of a team. Who does that? When you're Robin you don't have to do that." Williams' co-star Sarah Michelle Gellar, who played his daughter, said that "there are not enough adjectives to describe the light he was, to anyone that ever had the pleasure to meet him." The show's creator David E. Kelley said that Williams was a man of legendary talent, kindness and humanity.
Watch the video on RadarOnline.com:
youtube
MORE ON:
Sarah Michelle Gellar
Article continues below advertisement
Article continues below advertisement
Article continues below advertisement