Exclusive
Commercial Co-Star Fondly Remembers Robin Williams -- 'He Was Very Kind-Hearted & An Incredible Soul'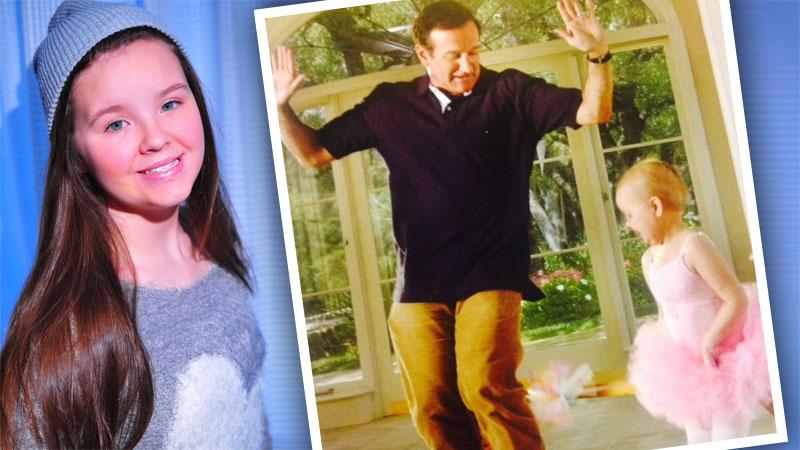 Robin Williams didn't just lift spirits onscreen — he was a do-gooder who continually left smiles on people's faces in real life every day.
One such person who was forever changed by Williams was Isabelle Morin, a cancer survivor who filmed a commercial with the actor in 2006 — and her mother exclusively tells RadarOnline.com that he was a "great inspiration" to her daughter.
"My daughter Isabelle filmed a commercial with him and they danced for hours as he joked and made her laugh all day," Teri Morin told RadarOnline.com.
Article continues below advertisement
"Robin Williams was very kind-hearted and an incredible soul. He was also a warrior for the kids of St.Jude Children's Research Hospital."
Isabelle did a national commercial for St. Jude Children's Research Hospital's Thanks and Giving Campaign and she's now 13-years-old and cancer free.
Williams was extremely generous with Isabelle — even giving her his personal RV script in which he included a personal handwritten private note to Isabelle, something she tells RadarOnline.com she wants to keep private.
"Robin surprised her at the end of the day of shooting with his personal RV script and he also wrote her a personal note with the script," Teri says.
"The script inspired her so much. He was so generous, kind and full of laughter."
So inspired by the actor gone too soon, Isabelle wants to try her hand in the acting world.
"I can tell you that he was a inspiration to her to try acting and she has a special memory of him," Teri told RadarOnline.com.
Article continues below advertisement
Article continues below advertisement
Article continues below advertisement
Article continues below advertisement