Coroner Suspects Robin Williams Death 'To Be A Suicide Due To Asphyxia' — Read The Police Report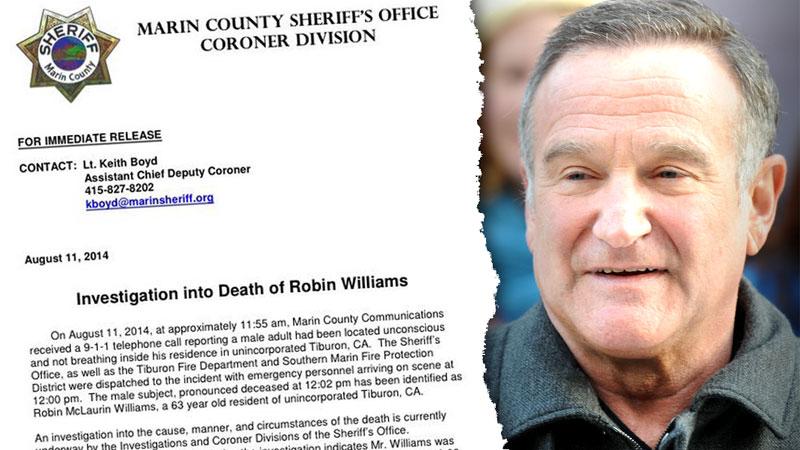 Actor Robin Williams was found dead in his California home on Monday morning and according to the County Sheriff's Office suicide is suspected, RadarOnline.com is reporting.
The sad and shocking news of the beloved comedian's death was confirmed through a press release sent out from the Marin County Sheriff's Office, Coroner Division, in which Lt. Keith Boyd revealed the details of the tragedy.
"On August 11, 2014, at approximately 11:55 am, Marin County Communications received a 9-1-1 telephone call reporting a male adult had been located unconscious and not breathing inside his residence in unincorporated Tiburon, CA," the statement reads.
Article continues below advertisement
"An investigation into the cause, manner, and circumstances of the death is currently underway by the investigations and Coroner Divisions of the Sheriff's Office. Preliminary information developed during the investigation indicates Mr. Williams was last seen alive at his residence, where he resides with his wife, at approximately 10:00 pm on August 10, 2014."
The release continues to state that the Oscar-winning actor appears to have taken his own life.
"At this time, the Sheriff's Office Coroner Division suspects the death to be a suicide due to asphyxia, but a comprehensive investigation must be completed before a final determination is made," Boyd wrote.
Williams' publicist also confirmed the death that has rocked Hollywood today, saying, "Robin Williams passed away this morning. He has been battling severe depression of late. This is a tragic and sudden loss. The family respectfully asks for their privacy as they grieve during this very difficult time."
Article continues below advertisement
Meanwhile his third wife, Susan Schneider, released the following statement to Us Weekly:
"This morning, I lost my husband and my best friend, while the world lost one of its most beloved artists and beautiful human beings. I am utterly heartbroken. On behalf of Robin's family, we are asking for privacy during our time of profound grief. As he is remembered, it is our hope the focus will not be on Robin's death, but on the countless moments of joy and laughter he gave to millions."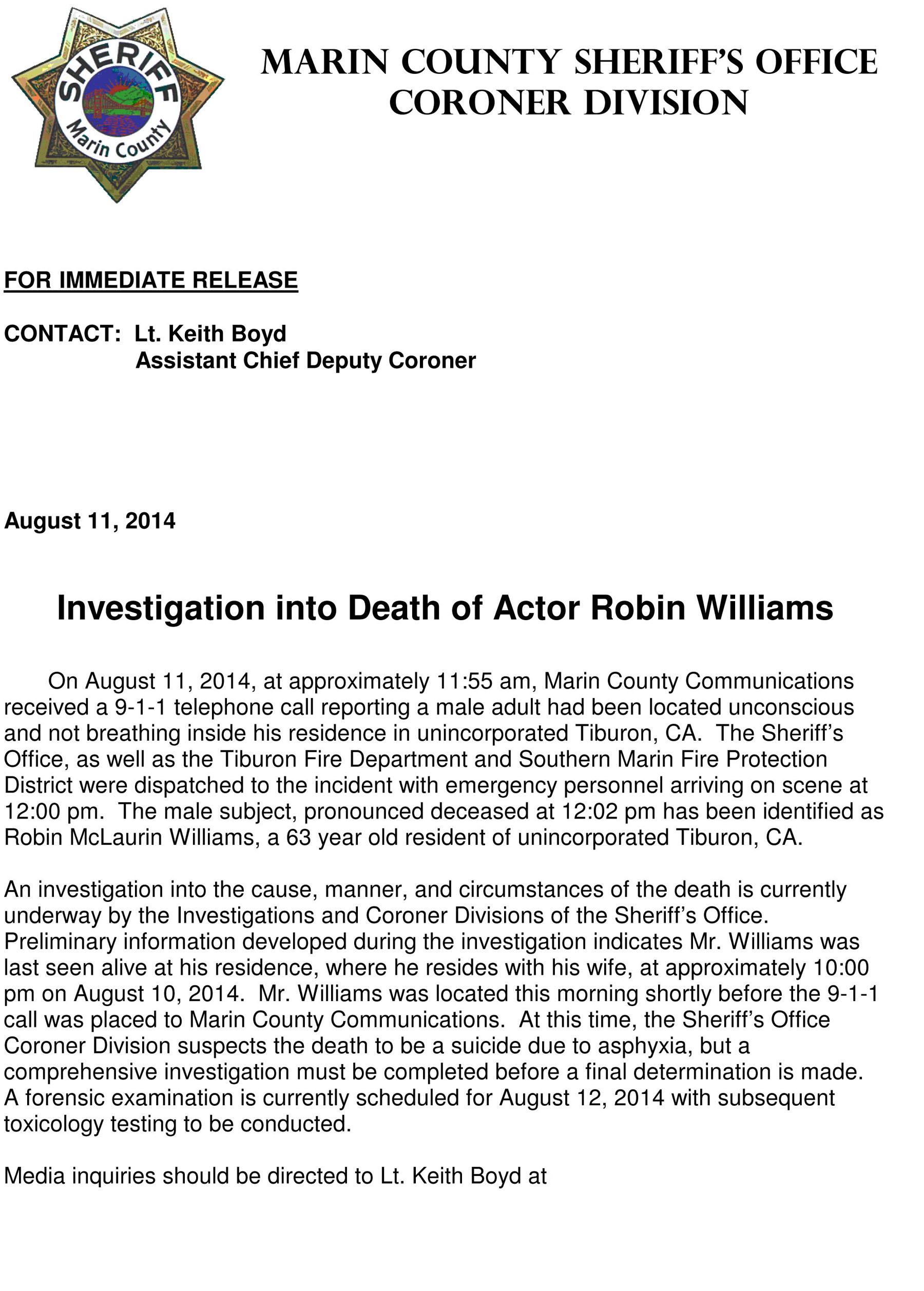 If anyone you know, is struggling with thoughts of suicide, please immediately seek help. You can speak with a skilled, trained counselor at a national Suicide Prevention Lifeline crisis center in your area, anytime 24/7 — call 1-800-273-TALK (8255).
Article continues below advertisement
Article continues below advertisement
Article continues below advertisement