Exclusive
Robin Williams Was Gaunt, Subdued, In Haunting Last Image Taken During Summer Rehab Stay — SEE The Disturbing Photo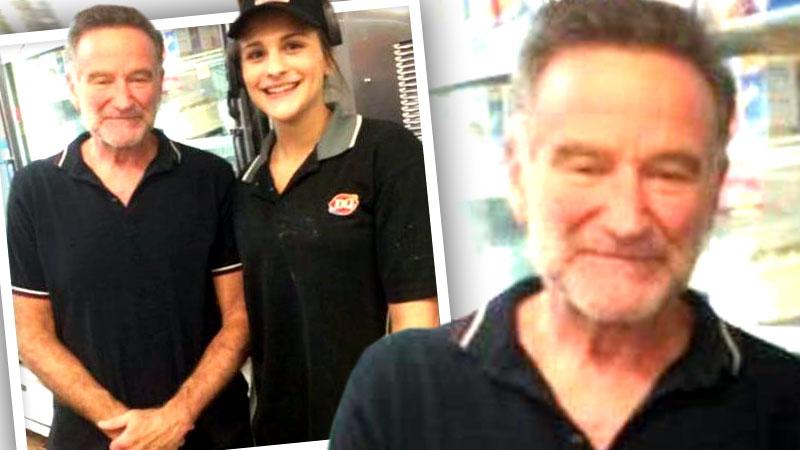 Far from the funny man who charmed millions, Robin Williams was gaunt and subdued in the last photo taken of him alive, as he battled the demons that would ultimately claim his life.
The photo, taken earlier this summer at a Lindstrom, Minnesota, Dairy Queen, shows Williams in the midst of his recent rehab stay at Minnesota's Hazelden Addiction Treatment Center.
After decades of struggling with addiction, Williams checked into The Lodge at the rehab center this summer, to "fine-tune and focus on his continued commitment to his sobriety," reps said at the time.
Article continues below advertisement
He quit cocaine and alcohol in the early 80s, only to relapse and go to rehab in 2006, before his most recent stay.
According to a Dairy Queen employee, Williams seemed to be struggling during his visit to the store, located within walking distance of Hazelden. Fifteen-year-old Abby Albers told local WCCO radio that he was subdued and unrecognizable during the visit in late June.
"I didn't think it was actually him (at first)," she said.
Just over one month later, he would be gone.
As RadarOnline.com has reported, Williams was found dead this afternoon at his Tiburon, California, home, from an apparent suicide by asphyxiation.
Story developing.
If anyone you know, is struggling with thoughts of suicide, please immediately seek help. You can speak with a skilled, trained counselor at a national Suicide Prevention Lifeline crisis center in your area, anytime 24/7 — call 1-800-273-TALK (8255).
Article continues below advertisement
Article continues below advertisement
Article continues below advertisement