Exclusive
A Lasting Legacy: Robin Williams Secretly Helped Countless Homeless People Find Work Over The Years, Friend Claims — Inside His Incredible Generosity Project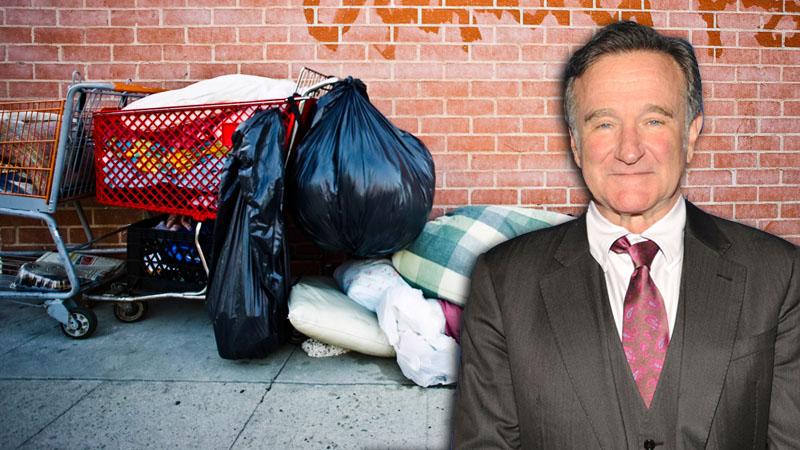 One week after Robin Williams' sudden death, the full impact of his passing is still being felt by those who he touched over the years. Among them, RadarOnline.com has learned, are the countless homeless people Williams helped to find work through a quiet, under-the-RadarOnline.com project aimed at giving back. Only RadarOnline.com has all the details of Williams' lasting legacy of helping those who were less fortunate.
Article continues below advertisement
Williams testified before Congress in the early 90's about homelessness, and he wasn't just another celebrity putting his name on a cause.
In fact, RadarOnline.com has learned, every time Williams was booked for an event, he required the company that hired him to also hire homeless people to fill smaller on-site positions. Brian Lord, who attempted to book the popular actor for Premiere Speaker's Bureau, opened up about the unique booking requirement in a blog posted after Williams' tragic suicide last week.
"Years ago I learned a very cool thing about Robin Williams, and I couldn't watch a movie of his afterward without thinking of it," Lord wrote. "I never actually booked Robin Williams for an event, but I came close enough that his office sent over his rider. For those outside of the entertainment industry, a rider lists out an artist's specific personal and technical needs for hosting them for an event- anything from bottled water and their green room to sound and lighting requirements. You can learn a lot about a person from their rider. This is where rock bands list their requirement for green M&Ms (which is actually a surprisingly smart thing to do)."
Article continues below advertisement
"When I got Robin Williams' rider, I was very surprised by what I found," he continued. "He actually had a requirement that for every single event or film he did, the company hiring him also had to hire a certain number of homeless people and put them to work. I never watched a Robin Williams movie the same way after that. I'm sure that on his own time and with his own money, he was working with these people in need, but he'd also decided to use his clout as an entertainer to make sure that production companies and event planners also learned the value of giving people a chance to work their way back. I wonder how many production companies continued the practice into their next non-Robin Williams project, as well as how many people got a chance at a job and the pride of earning an income, even temporarily, from his actions. He was a great multiplier of his impact. Let's hope that impact lives on without him. Thanks, Robin Williams- not just for laughs, but also for a cool example."
Premiere Speaker's Bureau books celebrities to speak for high profile company corporate events. Lord told RadarOnline.com exclusively, "This took place about eight years ago. We were unable to book Robin for our client, because he was just so busy. It didn't work out, but I never forgot what an amazing thing to do for homeless people. There was no publicity surrounding it, and it wasn't widely known. Who knows how many lives he changed by doing that. He was really trying to help people out that were down on their luck."
Article continues below advertisement
Just days after the 63-year-old was discovered dead from hanging by his longtime assistant at home in Tiburon, Calif., his wife Susan Schneider announced her husband was secretly suffering from the early stages of the progressive neurological disorder, Parkinson's Disease.
Funeral plans are being planned for a private service for Williams.
If anyone you know, is struggling with thoughts of suicide, please immediately seek help. You can speak with a skilled, trained counselor at a national Suicide Prevention Lifeline crisis center in your area, anytime 24/7 — call 1-800-273-TALK (8255).
Article continues below advertisement
Article continues below advertisement
Article continues below advertisement