Exclusive
A Mother's Heartbreak: Straight-A Student Turned Porn Star Who Committed Suicide 'Was Bullied Her Whole Life,' Reveals Grief-Stricken Mom — She 'Couldn't Handle It Anymore'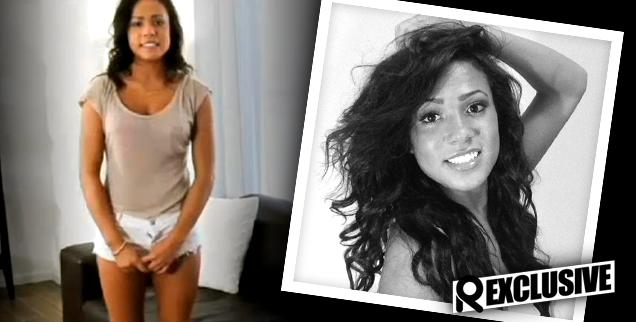 Sadly, college student Alyssa Funke was not only mercilessly bullied for appearing in a pornographic video— the 19-year-old Minnesota native, who committed suicide last month, was cruelly taunted throughout her entire life.
In an exclusive interview with RadarOnline.com, Alyssa's devastated mother, Melissa Funke, reveals classmates harassed her daughter as early as grammar school.
"People didn't like her because she was so pretty and smart," Melissa shares, adding that Alyssa's wealthy Stillwater, Minn., schoolmates looked down on the brunette beauty for not having the right clothes, shoes and toys. "We couldn't afford all the things other kids had, so she was made fun of for that."
Article continues below advertisement
"Alyssa was bulled her whole life," Melissa, 36, claims. "After all this recent bullying, she couldn't handle it anymore."
Though she performed as "Stella Ann" in a recent video for XXX website CastingCouch-X, Alyssa instantly regretted her decision to delve into the adult industry, Melissa insists. The heartbroken mom instead chooses to remember her daughter's true interests.
"She was a soccer star and a wrestling coach, and was awesome at snowboarding," Melissa boasts. "She was very intelligent. She graduated from high school with honors, and was earning A's in college. She was so positive, and could always see the bright side of things."
So when the University of Wisconsin- River Falls biology major sounded sad on April 16, Melissa was worried— but never could have dreamed she would take such drastic action.
"Alyssa said she was upset about all the bullying, and texted 'I don't want to be here anymore. I want to die,'" Melissa recalls. "I was shopping at Wal-Mart, so I said, 'I'm going to call you as soon as I get home.' She said, 'Ok, I'm going to take a shower. I love you!'"
But just five minutes was too late: Alyssa had already shot herself across the street from her grandmother's home on a boat landing near Minnesota's Big Carnelia Lake.
Shocking Stories You Didn't Believe But Turned Out To Be True
"It's just so terrible," Melissa says. "My family is in so much pain."
If anyone you know, is struggling with thoughts of suicide, please immediately seek help. You can speak with a skilled, trained counselor at a national Suicide Prevention Lifeline crisis center in your area, anytime 24/7 — call 1-800-273-TALK (8255).