Sochi: Shaun White Fails To Medal In Halfpipe, Matt Lauer Fails & More Highlights, Lowlights From Day 6!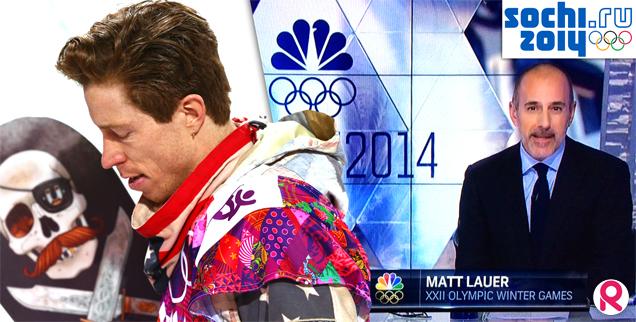 We've got all of Wednesday's latest updates from the Winter Olympics in Sochi, right here on RadarOnline.com.
Scoreboard
The United States tumbled from fourth to sixth place following Tuesday's showing, as Americans have accounted for two gold medals (snowboarders Sage Kotsenburg & Jamie Anderson), one silver, and four bronzes through Tuesday evening. With five gold medals and one silver, Germany is currently at the front of the pack, followed by Norway and Canada, respectively.
Article continues below advertisement
Lauer Continues Pinch-Hitting
Matt Lauer will continue to cover for NBC network mate Bob Costas, who's recovering from a double eye infection that have left his eyes "blurry and watery." Costas told TODAY that he doesn't "feel that bad," and has worked sick plenty of times, "but in this case it's just involuntary." Costas said that his eyes have "become so light-sensitive, that even in dim light, they're constantly tearing up. I can't possibly be in the studio, so it's not a case of just saying, 'What the heck, I'll go in not feeling well.'" Lauer, confirming what RadarOnline.com reported, joked to his colleague Wednesday, "I had to go in early, not to practice my lines, but to Lysol your whole dressing room."
Not Currying Up Favor With Viewers
A number of viewers took to Twitter during Tuesday's broadcast, panning Lauer for his work in Costas' chair, and rehashing his infamous behind-the-scenes controversy that led to Ann Curry's dismissal two years ago. Among the tweets: @LoRo214: It's only been an hour, and I'm already over Matt Lauer. #bringbobback #pinkeye #Olympics2014; @Krystyn88: For sure I thought that Bob Costas with 2 pink eyes was terrible. And then they brought in Matt Lauer; @ChrisRossSports: Not to be mean, but how funny would it be if Matt Lauer got pink eye?; @DaleMoss2: I quit Matt Lauer after he did the O'Jays "Backstabbers" to Ann Curry; and @CynicalMother: First Ann Curry. Now Bob Costas' eye. Coincidence? I think not. Watch your back Roker. Lauer is coming after you next. #Olympics2014.
Article continues below advertisement
Last Chance?
Shaun White, coming off Tuesday's disappointing fourth-place finish in the men's half-pipe at Rosa Khutor Extreme Park, said he believes he'll saddle up for the 2018 games in South Korea. While the 27-year-old failed in his run at a historic third gold medal in a row, the snowboarding icon wasn't too deterred by the loss in the contest, which was won by Switzerland's Iouri Podladtchikov. White told TODAY Wednesday, "I thought about it plenty of times, just countless, running it through my head what I could have done … I'm happy, though. I move on from here. I don't think it makes or breaks my career this one night, but definitely a disappointment." The fan favorite, who fell short of becoming the seventh Olympian ever to win three consecutive gold medals in the Winter Games, admitted that after his amazing run, he's still stinging some from Tuesday's upset. "I've dealt with this a lot when I was younger, just coming up in the ranks of the sport … it feels like old times I guess, but I've learned a lot from it."
Watch the video on RadarOnline.com
=false&thruParam_espn-uiplayRelatedExternally=true"
It Takes A Village
Of 230 Olympians competing for the red, white and blue, Team USA's oldest participant is Chicago native Ann Swisshelm, 45, a lead curler some three decades older than the youngest member, 15-year-old freestyle skier Maggie Voisin. The 5'9, 150-pound athlete has been active in curling since the age of 10, and made her Olympic debut in 2002. She told the Chicago Tribune she won't be giving the Winter Games another go after Sochi, adding, "It's time for the next generation."
Dilemma
It was a clear Catch 22 for NBC and Brian Williams Tuesday as to how to report the news of White's defeat, with 10 hours left until the upset aired in the United States. News is news, however, and Williams bit the bullet and delivered the tidbit on NBC's Nightly News with no spoiler alert, upsetting some, but informing all.