Exclusive
Pass The Lysol: NBC Orders Sochi Set Disinfected Before Matt Lauer Takes Over From Bob Costas In Primetime Because Of Fears The Infection Could Spread!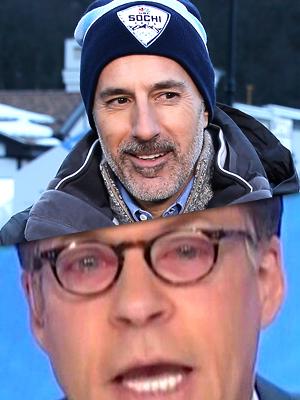 Bob Costas streak of anchoring 157 consecutive Olympic prime-time broadcasts for NBC, dating back to the Summer Games in Barcelona, Spain, in 1992, will come to an abrupt end on Tuesday night when the famed sports broadcaster steps aside for Matt Lauer due to his battle with highly contagious pink eye.
But before the TODAY anchor steps into Costas' chair on the network's elaborate set, the entire studio was "thoroughly cleaned and sanitized," a production insider revealed to RadarOnline.com.
Article continues below advertisement
"The crew has been going through a lot of hand sanitizer. Matt is ready to fill in for Bob and has been hunkered down most of the day preparing with the staff for the evening broadcast."
The source said it's likely Lauer, 56, will be filling in for Costas, 61, for at least two days.
During Tuesday's broadcast of TODAY, Costas called in and revealed Lauer would be substituting for him because of the ongoing infection that has plagued his time in Sochi.
Article continues below advertisement
Lauer said of replacing Costas, "I just feel bad for him. He looks forward to these games for so long and he's the best that's ever done it. If he could be in that seat, he'd be in that seat."
"Both eyes were red and angry on Sunday and Monday," Costas told the New York Times on Tuesday morning.
"It was increasingly uncomfortable with each passing night, but I could cope with it," he added. "But last night until today, it got to where I couldn't look in the bathroom light without squinting and blinking and my eye watering."
Winter Olympics! Ice Skating's 35 Secrets, Tragedies & Scandals
As RadarOnline.com previously reported, the network has been consulting doctors in New York City and Costas has been taking antibiotics and prescription eye drops to combat the infection.
"There are concerns Bob's eyesight could be permanently damaged by the pink eye, which in extreme cases, can cause astigmatism, which causes blurry vision and the appearance of floaters in the eye," a source said.
It will be a very long day for Lauer, but he "is more than ready for the challenge. No one works harder on TODAY than him. You won't hear him complaining about having to do double duty. He is a trooper. He will do what needs to be done and what is asked of him."