Sugar Daddy! Drew Carey Spoiling Porn Star Sweetheart Niki Skyler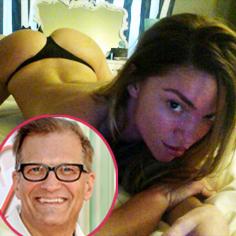 Article continues below advertisement
"He clicked on Megan's photo and immediately fell in love," reveals an insider. Carey, who is worth $165 million, soon began sending Martinez gifts. After a few private video sessions, the funnyman flew to Las Vegas to see his young crush at the Adult Video News Awards.
Soon after, Drew whisked Martinez and her son Noah, 9, to his Hollywood mansion, and rented the mother-son pair their own home for $60,000.
"He has completely changed her life," the insider says.
Though the relationship has been kept quiet, Martinez sat in the audience during Carey's stint on Dancing With the Stars — and he even introduced her as his girlfriend to the cast and crew.
She may have her wealthy Prince Charming, but Martinez still performs on the risqué site for cash.
"She is trying to be practical. She is worried that if for some reason if didn't work out with Drew, she'd have nothing left," the source explains. "The bottom line is, she still has a kid to support."
But Carey has no plans to drop the brunette beauty, who calls herself a photographer and student on her My Free Cams profile.
"Drew really wants to take the relationship to the next level," the insider says. "She currently only has sex with girls in her videos, which is fine with Drew, but he will not propose until she's done. He doesn't want a wife who gets naked in front of strangers!"
For more on Drew Carey's XXX new romance, check our Star's latest issue.