ON YOUR RADAR: The Year's Biggest Reality TV Scandals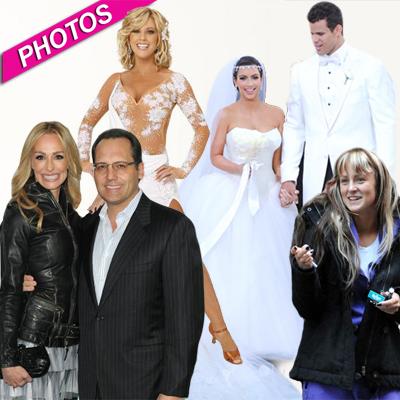 By Alexis Tereszcuk - Radar Senior Reporter
There is nothing better than a good old scandal and that made 2011 a banner year for reality TV!
From cheating spouses, to fake marriages to shocking suicides and risking children's lives, reality stars showed their true colors by fighting, making-up, dodging debt and raking up arrests, and RadarOnline.com has a gallery of the biggest scandals of the year.
Article continues below advertisement
Kim Kardashian tied the knot with Kris Humphries in an $18 million made-for-TV extravaganza but filed for divorce just 72 days later, prompting outcry that the nuptials were fake and only for ratings on her reality show. The backlash was swift, especially when Kim cashed in with huge ratings for the new season of Kourtney and Kim Take New York, which was re-edited to make Kris look like the bad guy.
Taylor Armstrong's financial troubles were simmering when her estranged husband Russell hanged himself in August, followed by the shocking news that Russell had allegedly abused her during their tumultuous marriage. His suicide stunned family and friends, but the couple's troubles are proving to be a ratings bonanza for the Real Housewives of Beverly Hills, with their counseling sessions aired on TV and the couple's dark secrets revealed weekly.
Article continues below advertisement
Real Housewives of New Jersey star Joe Giudice wound up in the slammer again in 2011, further humiliating his wife Teresa, when he was arrested for fraudulently obtaining a driver's license. Joe's driving license was suspended following his drunk driving conviction but he allegedly obtained one in his brother's name, but didn't outsmart the authorities, who promptly hauled him off to jail.
Real Housewives of Orange County star Vicki Gunvalson ditched her husband of ten years, Don, for new guy Brooks Ayers, and while the lovebirds canoodled, his shady past was revealed. Vicki's new beau Brooks was arrested twice for DUI, and was arrested twice for being a deadbeat dad and failing to pay his child support.
Bentley Williams walking out on adorable Bachelorette Ashley Hebert shocked her, when he callously said "I don't care about Ashley," but he hit a low point when he said she was an "ugly duckling." She found love with JP Rosenbaum, but Bentley's dastardly deeds on the reality show caused Ashley to admit she couldn't believe she'd wasted so much time with him.
It's hard to be a star of the Real Housewives of Orange County without a house, but Peggy Tanous is in a dogfight to keep her $1.3 million home in Irvine, Calif. out of foreclosure. She fought back with the banks, filing a lawsuit claiming they didn't honor her modified loans.
Article continues below advertisement
Kim Richards had a tough year in 2011, and adding to the Real Housewives of Beverly Hills star's woes was the revelation that her new boyfriend had a pretty shady past. Ken Blumenfeld not only kept his Match.com profile active after he started dating Kim, he was arrested in 2009 for DUI, a concern for Kim who entered rehab in December to treat her own substance abuse problems.
Continuing the curse on a happy marriage, Real Housewives of New Jersey star Teresa Giudice's jailbird husband was spotted out having a romantic dinner with another woman. The undercover pair dined together, prompting one witness to comment that they looked "very comfortable and cozy together."
She might be the most hated mom on television, and Kate Gosselin continued to earn the ire of the country when shocking photos showed her allowing one of her eight young children to play underneath the wheels of the family van. Rather than get out of the vehicle and supervise the children when she picked them up, Kate stayed in the driver's seat while the little boy crawled under the van. A child safety group blasted the Kate Plus 8 star, saying "She is blessed she didn't run him over."
Article continues below advertisement
Troubled Teen Mom Amber Portwood has had a bad year, including being rushed to the hospital following a tragic suicide attempt. The young mother was apparently found unconscious in her home with a rope around her neck. Things didn't improve after that tragedy, and Amber was arrested in late December on a probation violation.
Gretchen Rossi's boyfriend Slade Smiley was accused in court of being a deadbeat dad for not paying the legal bills of his little son who is suffering from cancer. Raking up almost $130,000 in unpaid back child support, Slade's ex wife slammed him for attending a cancer charity event while ignoring the medical bills for their son.
Teen Mom doesn't always mean teen bride. MTV reality show star Leah Messer filed for divorce from her husband Corey Simms after six months of marriage. Leah has twin girls Aleeah and Aliannah and their family life has been the focus of much attention since the hit show took off.
The matriarch of the Kardashian family Kris Jenner published an explosive tell-all book, Kris Jenner…and All Things Kardashian, where she revealed how she always knew O.J. Simpson had something to do with his ex-wife Nicole Brown Simpson's death and even wrote that she felt that she could have saved Nicole before her brutal murder.
Article continues below advertisement
Sister stars of the Real Housewives of Beverly Hills turned on each other in a shocking fight in the season finale of the first season of their reality show. The verbal brawl almost turned physical as the women had to be separated by fellow housewife Adrienne Maloof before they came to actual blows.
Toddlers & Tiaras star Paisley Dickey's outrageous pageant costumes, where she dressed like Julia Roberts' Pretty Woman hooker character caused an uproar over child beauty contests. Little Paisley's mom defended her daughter, and said she even planned to auction off the risqué outfits for charity.
Did they or didn't they? MTV Jersey Shore stars Snooki and The Situation might have hooked up, or maybe they didn't…. Mike says they did, Snooki says he's a liar, but he stands by his word. Can you figure it out?
Check out RadarOnline.com's gallery of the Biggest Reality TV Scandals of 2011 and let us know which one you think was the most outrageous.