Exclusive
Another Housewife Scandal! Is Joe Cheating On Teresa Giudice?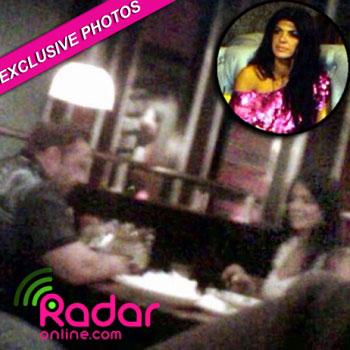 Senior Radar Reporter
Is there trouble in another Real Housewife marriage?
There have been rocky times for Teresa and Joe Giudice of The Real Housewives of New Jersey, and RadarOnline.com has exclusively obtained a photo of Joe out with another woman!
Tuesday night in Clifton, New Jersey, Bravo reality star Joe Giudice was spotted out dining with a woman who was definitely not his wife.
Article continues below advertisement
"I was in the T.G.I. Fridays and saw Joe and this woman who was NOT Teresa having a drink in a booth by the bar," eyewitness Erin exclusively told RadarOnline.com.
"They were drinking martinis and when the woman finished hers she took a sip out of Joe's glass too. They looked like they were having a good time together and laughing with each other."
After a waiter brought them wet naps the woman opened hers and "wiped Joe's hands off with hers," Erin said. "It was really intimate to see her touching his hands like that.
"They looked very comfortable and cozy together."
The brunette woman was wearing a white top, carried a Louis Vuitton purse and according to Erin she "appeared to be in her late 20s or early 30s."
Despite recently renewing their vows, the couple, who has four children, has been going through a rough patch and some reports said the renewal ceremony was just for show.
While her husband was having a cocktail with another woman 30 miles away, Teresa was hard at work at the Posche fashion show at the Son Cubano restaurant and Tom Murro provided the photo of her sitting with co-star Kathy Wakile at the event.