EXCLUSIVE DETAILS: NJ Housewife's Hubby Joe Giudice Charged With Fraud, Obtained Driver's License Using Brother's Name: Cops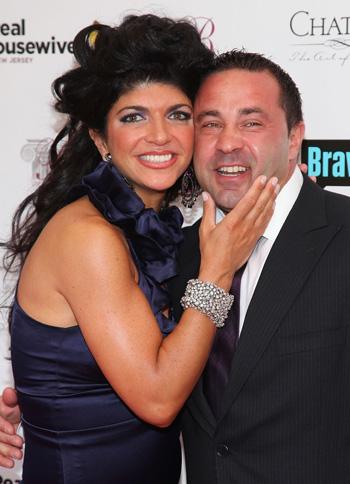 The husband of Real Housewife Teresa Giudice was arrested at the couple's New Jersey home on Friday and charged with fraudulently obtaining a state driver's license, RadarOnline.com is reporting.
Joe Giudice license is suspended following a drunk driving conviction last year which landed him in jail for 10-days.
"Mr. Giudice was arrested at his home earlier today (Friday) as the result of an investigation this office did with assistance from the state Motor Vechilce Office," Chief Assistant Prosecutor Jay W. McCann said in a statement, released to RadarOnline.com.
Article continues below advertisement
Joe, real name Giuseppe, allegedly obtained a driver's license from the Patterson branch of the Motor Vehicle Office using his brother's identifying information in June 2010.
Giudice's license was suspended at the time and still is, according to cops.
RadarOnline.com has learned prosecutors will claim Giudice, 40, used his brother's marriage license and birth certificate to obtain the forged license.
Giudice is charged with Wrongfully Using Identifying Information of Another, a violation of NJSA2C:21-17.2, a crime of the second degree, which is punishable by up to ten years in State prison, and Forgery, a violation of NJSA 2C:21-(a), a crime of the fourth degree punishable by up to eighteen months in State Prison.
Bail was set by Paterson Municipal Court at $50,000 with no 10 percent option.
Joe was charged following an investigation involving three law enforcement agencies; the Passaic County Prosecutor, its Financial Crimes Unit and the Montville Township Police Department.