Exclusive
EXCLUSIVE: Teresa Giudice's Husband Turns Himself In To Jail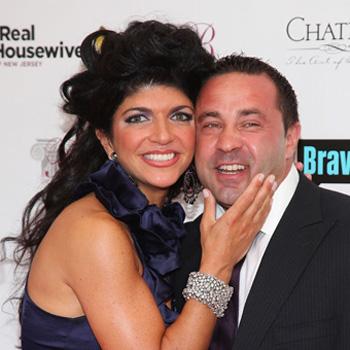 Giuseppe "Joe" Giudice, the husband of The Real Housewives of New Jersey star Teresa Giudice, turned himself in to jail in New Jersey on Monday morning, RadarOnline.com has learned exclusively.
According to Sgt Bill Karback with the Lincoln Park Police Department, Joe turned himself in at 9 a.m. after a judge ordered the reality star to do jail time for driving with a suspended driver's license. He has been transferred to the Morris County Correctional Facility and is serving a 10-day sentence.
Article continues below advertisement
And Joe arrived at the correctional facility at 10:30 a.m. -- just in time for breakfast. On Monday's menu -- scrambled eggs, potatoes toast, an apple, and orange juice and coffee, RadarOnline.com learned. And the rest of the day's meals are still a far cry from his wife's best-selling "Skinny Italian" cookbook menu -- complete with hamburgers, salad, fruit, cookies and a fruit drink for lunch and chicken patties and potatoes for dinner.
Joe is going to miss his nearby Montville mansion – he'll be alone in an 8 by 10 foot cell.
"Since it's a high profile case and he has a short stay he will be in the cell alone," a source at the jail told RadarOnline.com.
In January, Joe was charged with driving under the influence after crashing his car into a telephone pole in Montville Township, New Jersey. He was taken to the hospital and then released to the police due to outstanding warrants. In March, he was fined $864, had his license revoked for 12 months, and was sentenced to 30 days of community service.